CYCLING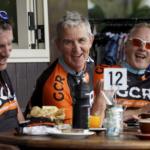 Amazing day at Lake Taupo Cycle Challenge: wrap up release
By Lake Taupo Cycle Challenge
More than 6000 cyclists, including 1000 mountain bikers, took up a personal challenge today at the Lake Taupo Cycle Challenge, riding in one of 14 events on and off the road from individual and elite road rides, mountain bike events, to short distant categories for families and kids.
The elite road and mountain bike riders provided thrilling finishes for spectators, as well as cycling supporters who lined the central North Island town's main road to watch the professional riders and cheer on all those who had entered to give the Lake Taupo ride a go. Records were set in the Holden Men's Classic elite race and in the four-lap Maxi Enduro.
"It's an occasion that the whole town seems to gets behind – everyone knows when it's Cycle Challenge weekend," says Event Director, Aaron Carter. "It's a sensational event that sees Taupo's population almost double with spectators and supporters creating a festive, family atmosphere especially at the event village."
"More than 800 volunteers help our team do an amazing job on the course and behind the scenes; and it's great to be able to help raise money for Heart Kids, our official charity, and provide proceeds back to the community via the Lake Taupo Rotary Club." says Aaron.
"Cycle Challenge has an outstanding list of major and minor spot prizes as well as several memorial and special awards and we're excited to announce today that from 2018 BDO New Zealand will be the official naming rights partner of the Lake Taupo Cycle Challenge.
Cycling is a very much a part of the chartered accounting and business advisory firm – they're cycling participators, not spectators. With a network of 16 offices across the country, BDO is already involved in the Tour of Southland, the Taranaki Around the Mountain Cycle Challenge, Crankworx in Rotorua, the Tour of Northland and in the past they've sponsored the Wellington to Auckland race.
BDO Chairman David O'Connor says the firm very much looks forward to their sponsorship of the iconic Taupo event.
"We want to inject support and contribute to the workplace corporate challenge and look forward to working with the cycle challenge team to develop new areas of participation," he says.
"It's fantastic to have such a committed organisation behind us, we're excited at the opportunities that our future relationship hold for both the event and all of those who take part each year " says Aaron Carter, Lake Taupo Cycle Challenge Event Director.