CYCLING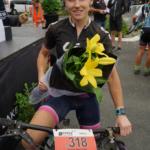 Blazing Record-Breaking Finishes at Lake Taupo Cycle Challenge
By Lake Taupo Cycle Challenge
There are records set and spectators had the thrill of exciting sprint finishes today at the 41st Lake Taupo Cycle Challenge.
It was heads down and riders were pumping it at the end of the fast-paced 100km Bayleys Women's Classic Elite Race with Australian rider, Matilda Raynolds from Port Melbourne in first place and all three podium finishers crossing the line at 2.47.13. Hokitika rider Sharlotte Lucas came second and Tauranga's Laura Jorgensen third.
Rylee McMullen (Auckland) took out the sprint award and hill climb honours. It's the first year that the elite women will receive the same prize money as their male elite counterparts.
Following his win at Friday night's Criterium Sam Gaze (Cambridge) was first in the 160km Holden Men's Classic Elite Race breaking the course record in 3:37:51 set in 2016 by Aaron Gate (3:39:08). Second was fellow Cambridge cyclist Josh Lane and third, Frank Sutton (Hamilton).
In a day of records breaking, Roman van Uden took an impressive two hours off the Maxi Enduro event with four laps around Lake Taupo in 20.30.22. Thomas Lindrup had the previous record 22.28.
Shaw (Rotorua) blitzed his own time in the Huka XL 85km men's mountain bike event (3:45:01) taking 11 minutes off his 2016 third place ride. Second was Glenn Haden (3:46:26) and a tight third, Henry Jaine (3:46:27).
The winner in the women's Huka XL 85km mountain bike race was Josie Wilcox (4:22:26) Jeanette Gerrie (4:43:03) and Emma McCosh third, (4:43:23).
Darryl Strachan set off at 1.30am this morning to ride the two-lap Enduro event, completing it in 9:43:49. The first female home was Joanna Sharpe, 10.11.20.
First place in the Bike Barn Round the Lake 160km ride was Craig Galbraith (3:41:44) and first female Robyn Tavendale (4:12.29).
"It's a fantastic event that just keeps getting better to experience the energy and excitement of cycle challenge," says Event Director Aaron Carter.