CYCLING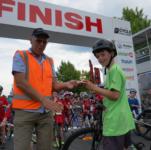 New global car park cycling series hits New Zealand on Sunday
By Enthuse Media PR
A new global car park cycling series hits New Zealand for the first time this Sunday.
Being held in the eight story Innovation Car Park building in central Christchurch it features 120 cyclists racing up to a party on the roof with a DJ and band.
"After two massive events in Europe we are really excited to have the third event in the series in Christchurch," event organiser John McKenzie from enthuse media & events said.
"It's the only event in the series in the Southern hemisphere and it is a key Movember men's health fund raiser so we hope loads of people will come down to watch the riding and be part of what will be a pretty cool atmosphere, enjoying an ice cold beer, bubbles, gourmet burgers, DJ and band all from the eighth floor bar watching the sunset over the Christchurch city skyline."
Local DJ Vlad Nanevski will be pumping out the music with covers band The Mule providing the entertainment for the after party on the top floor of the car park building.
The exciting cycling will see rider's go head to head in a series of knock out races after a first round qualifying individual time trial.
"It's going to be such a cool event with amazing atmosphere so it has wide ranging appeal as a great night out," McKenzie said. "You definitely don't have to be a cyclist or cycling fan to enjoy the event. There hasn't been an event like this in New Zealand ever. It's also a chance to celebrate the new inner city we have in Christchurch. There's a lot going on and it's just getting better."
at the event who have made an effort to grow a moustache to raise money for Movember will have the opportunity to have a hot shave, just one of the evening's entertainment elements. The event has no charge to attend but there will be an opportunity to donate to Movember on the night.
McKenzie says he's passionate about men's health and raising some funds for Movember. "My dad had prostate cancer and in Christchurch we lost a well-known and respected member of our cycling community this year to cancer. Men's health is in crisis and I want to do my bit. Organising the Urology Associates Car Park Cannon Ball is part of my effort."
There will be range of hospitality options available featuring Dutch craft beer aBLOC, a bicycle beer targeted at the cycling market that is not yet available in New Zealand but is using the event as a market tester.
"Riding a bloc means going flat out," John said. "The goal of aBLOC is to unite cyclists around the world and celebrate the beauty of cycling and one way to do that is with cool events, where you ride hard and share some stories over a beer afterwards. The Urology Associates Car Park Cannon Ball brings together two of our favourite worlds, cycling and craft beer, and it's pretty special to have aBLOC in New Zealand for the first time at our event ."
The event has four categories, fixed gear and geared bikes in male and female grades. The first qualifying round that will see riders ride up solo to record a time and then the following rounds will be knockout heading towards a grand finale. Registration is from five o'clock with the racing starting at six thirty.
"Two riders, eights floors and a wall of sound; its urban life meeting urban bike riders. It's definitely a bike event but not as you know it and its going to be pretty special."