CYCLING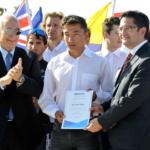 Israel Cycling Academy Launches World's Most Diverse Team
By Israel Cycling Academy 2018
Cyclists from 16 countries and five continents, including Turkey's national champion, made Peres Center "Ambassadors for Peace"
ICA's 2018 roster, comprising Jewish, Christian and Muslim riders, is aiming to compete in world's biggest races, including the 2018 Giro d'Italia which begins in Israel.
TEL AVIV, 16 November 2017 - The Israel Cycling Academy's 2018 roster was today unveiled in front of the world's media, and awarded the prestigious title of Peres Center "Ambassador for Peace" by Chemi Peres, son of the late President Shimon Peres, at a ceremony attended by Ambassadors from many countries. The team comprises cyclists of three religions, from 16 different countries on five continents, including recent addition Ahmet Örken, the 2017 Turkish National Time Trial cycling champion.
The team also launched its roster, the team's strongest ever, ahead of the 2018 season, the most significant in its short existence which it hopes will culminate with a place in the 2018 Giro d'Italia – beginning in Jerusalem and passing through several other Israeli cities including Tel Aviv, whose Mayor Ron Huldai attended today's event.
The Israel Cycling Academy, Israel's first and only professional cycling team, is unique in the world of professional sports. As a non-profit team, its values, ethos and commitment to social change set it apart from its competitors, and ensure that its significance extends far beyond the realm of sport.
Among the team members are four current national champions, including Ahmet Örken, the 2017 Turkish National Time Trial cycling champion. Örken's participation is further proof of the Israel Cycling Academy's ability to break down barriers. Meanwhile, Spain's Ruben Plaza and Italy's Kristian Sbaragli have won stages of the Tour de France and Vuelta a Espana respectively. The team also includes five of Israel's top cyclists, including national champion Roy Goldstein, hoping to make their mark on the international stage. It is the world's most diverse team, and a living embodiment of the potential for sport to bring people together.
In recognition of these values, the Peres Center for Peace bestowed upon the Israel Cycling Academy team members, team managers, plus team founders – Sylvan Adams and Roni Baron - the title of "Ambassador for Peace". The award, given by Chemi Peres, Chairman of the Board of Directors of the Peres Center for Peace and Innovation, is a powerful statement that sport can be a strong force for good in the world.
Ahmet Örken, Turkish National Time Trial Champion, said: "For me, the opportunity to ride in the Israel Cycling Academy is a great honor and a major professional challenge. No Turkish cyclist has ever raced for a team at this level. But beyond this, just as the Academy does not see itself as just a cycling team, I don't see myself just as a cyclist. Together, we have the opportunity to excite and inspire people, and to change the world around us. The fact that a Turkish cyclist is competing side by side with Israeli cyclists and others from around the world, and striving together for victory sends a message of coexistence and peace to all. For all the team members, and especially for me, it is a great privilege to be made an "Ambassador of Peace".
Sylvan Adams, co-owner of the Israel Cycling Academy and Honorary President of "Big Start Israel", said: "Despite its focus on developing Israeli cyclists, ICA is one of the most diverse pro cycling teams, with riders from 16 different nations on 5 continents represented on the team. Our athletes understand that being on an Israeli team, they are each ambassadors for the team's home country. Our team bonding camp held this week in Israel was intended to familiarize, educate, but mostly get the riders to bond together and enjoy their experience in Israel amongst its people. The power of our ICA project to bring this diverse group together to ride under our Israeli colours in pursuit of common goals gives me and these fine athletes great pride."
Roni Baron, founder and co-owner of the Israel Cycling Academy, said: "The vision and main goal of the team is to instill a love of cycling among young Israelis from all backgrounds. Just yesterday, the team announced the signing of an 18 year old Druze cyclist, Sanad Abu Faris, to our youth team. We believe that in the not too distant future, the Academy will also include Arab and Palestinian riders. That is what we are aiming towards".
Chemi Peres, Chairman of the Board of Directors of the Peres Center for Peace and Innovation, said: "My father [Shimon Peres] believed in the ability of sport to bridge nations, cultures and religions. As he used to say, 'When you are on a sports field, you are a team player – Not a Muslim, Jew or Christian.' Sport knows no boundaries. Sport is an international language that unites us all. It does not matter if you speak English, Hebrew or Turkish – everyone has a place and a role to play. Athletes have the power to be ambassadors for peace, and to serve as role models for the younger generation."