CYCLING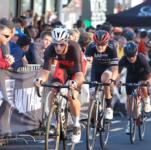 Buchanan, Gaze claim New Zealand Criterium titles in Takapuna
By Sports Media NZ Ltd
Star Kiwi cyclist Rushlee Buchanan added another title to her illustrious collection with victory in the Vantage Criterium National Championships in Auckland.
Buchanan, who has won a record four national road titles and the time trial honours, added her fourth national criterium success with an emphatic sprint on the streets of Takapuna.
Meanwhile double World Under-23 Mountain Bike Champion Sam Gaze joined her on the top of the podium with a brilliant effort to win the elite men's race.
The Cambridge rider, ill during the week, jumped across to the leading pair Alexander Ray and James Fouche who remained clear of the chasers before Gaze out-kicked them in the sprint.
The 29 year old Buchanan was thrilled with her efforts in her first race back following an arduous season with her UnitedHealthcare pro team in USA, as she amps up for a return to the Vantage Cycling New Zealand Elite Track Team.
Buchanan was hoping the 35 minute race around an exciting 1.9km circuit in downtown Takapuna would not come down to a sprint.
"I was a bit nervous because it's my first race back for the summer season and I knew all the track girls had good legs if it came down to a sprint," Buchanan said.
"It is a pretty short race so it came down to a sprint and I had to position myself right for the sprint.
"Every national title means the same to me. It is an awesome honour and especially when I get to wear the jersey overseas so much. I love wearing the silver fern overseas."
Buchanan will return to the track programme in readiness for the upcoming Oceania Track Championships in Cambridge and then look to defend her national road honours in Napier in the New Year.
Buchanan nestled behind a select group comprising her fellow elite track mates - defending champion Racquel Sheath, Bryony Botha and Michaela Drummond - in the final lap. She was able to drive strongly out of the final turn to score the win from Sheath and Drummond.
The men's race was a brutal affair from the get-go when UK-based Madison Genesis professional Taylor Gunman broke from the start. He was joined by fellow road professionals Luke Mudgway, James Fouche, Regan Gough and Gaze. They opened a 12 second lead which held until the 30 minute mark of the 45 minute race.
Auckland pro Alexander Ray, who won the green sprinters' jersey in the Tour of Southland, then sparked another attack, joined by Fouche and Gaze and this trio remained clear as the rest of the field struggled under the onslaught.
It was Gaze who had the superior sprint to the line to add a national road title to his list.
"This was not something I thought I could achieve after what has been a long and fantastic mountain bike season," said Gaze.
"I was not in the best of health this week but wanted to give it my best. This was a surprise but I felt strong and to win a national title on the road is a real honour."
Ray held on for second with Fouche third.
Earlier Te Awamutu's Maddi Douglas won the under-17 title while local Takapuna Grammar student Nick Bowen won the under-17 boys honours.
Results:
Elite women: Rushlee Buchanan 1, Racquel Sheath 2, Michaela Drummond 3, Bryony Botha 4, Lydia Rippon 5.
Elite men: Sam Gaze 1, Alexander Ray 2, James Fouche 3, Luke Mudgway 4, Harry Waine 5.
Under-17 Girls: Maddi Douglas 1, Prudence Fowler 2, Lucy Thomson 3.
Under-17 Boys: Nick Bowen 1, Kaio Lart 2, Jensen Foster 3.
B Grade Women: Sophie Bernard 1, Hann ah Quinlan 2, Tania Duff 3.
B Grade Men: Andy Grainer 1`, Brenden Beyer 2, Cameron Davies 3.
Street Race: Max Newton 1, Toby Martin 2, Oliver van Kampen 3.