TRIATHLON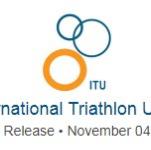 Summer Cook (USA) and Marten Van Riel (BEL) collect final world cup titles of the season at the 2017 Miyazaki ITU Triathlon World Cup
By International Triathlon Union
MIYAZAKI, JAPAN - Ending the 2017 world cup season with a bang, USA's Summer Cook and Marten Van Riel of Belgium were crowned victorious at the 2017 Miyazaki ITU Triathlon World Cup. With the wins, both Cook and Van Riel collected career milestones. Cook earned her second straight world cup gold after winning in Tongyeong the week before and also claimed the Miyazaki title for the very first time. While Van Riel seized his very first career world cup win.
Joining Cook on the women's podium was USA compatriot Taylor Spivey who claimed silver and Emma Jackson(AUS) who took the bronze.
On the men's side, Spaniard Vicente Hernandez took second and Andreas Schilling (DEN) finished third, resulting in first world cup podiums for the year for both men.
The standard distance race that debuted in Miyazaki for only the second time in ITU history, was, for also the second straight year, the final race of the world cup season, putting the 2017 year to rest after an exciting 15-stop global tour that began in February.
Women's review
After losing the inaugural Miyazaki title in 2016, Cook lined up for Saturday's race bound and determined to change her fate in the final world cup race of the 2017 season. Dominating the field through the swim, bike and run, Cook snagged the title to collect her third world cup gold of the year.
"I am really happy with today's race. It felt great to be able to back up my win in Tongyeong last week with another win. I feel like I completed some things better than I did last week, so I am really happy about that and I am really happy about the process that I put forth in order to achieve my result today. I am looking to take these last two results and the things I accomplished from the whole process and take them into next season," Cook said of her win.
Spivey took the silver medal, to total two world cup podiums in her season, while the bronze went to Jackson who ends her season with her third world cup medal.
"I am so happy to finish the season strong. I worked really hard today and it paid off," said Taylor of finishing her season with a silver medal," said Spivey.
2017 Miyazaki ITU Triathlon World Cup - Elite Women Results
04 Nov, 2017 • event page • all results
Results: Elite Women1.Summer CookUSA01:54:12
2.Taylor SpiveyUSA01:54:50
3.Emma JacksonAUS01:54:53
4.Valerie BarthelemyBEL01:54:58
5.Yuko TakahashiJPN01:55:02
6.Verena SteinhauserITA01:55:31
7.Yuka SatoJPN01:55:57
8.Angelica OlmoITA01:56:07
9.Joanna BrownCAN01:56:21
10.Ai UedaJPN01:56:33
Men's review
He earned a silver in Sarasota and a bronze in Tongyeong, but Van Riel finally seized his much-anticipated gold medal in the Miyazaki World Cup. "I can't be happier with how the season ended for me. Three podiums in the world cup, I didn't expect that. I was hoping for one podium in one of the three races, but I have every medal now so I am very happy," Van Riel said of his first career gold.
Coming down to a near-sprint finish, Van Riel just edged out Hernandez who claimed the silver, while the bronze then went to Schilling.
"I am happy with the race, I couldn't expect anything better. I was in front and I finally lost in the final sprint. I felt a little tired because I raced a half distance, so I probably needed a little bit of a fast movement at the end. But I am pretty happy, it was a good finish for the season," Hernandez commented.
2017 Miyazaki ITU Triathlon World Cup - Elite Men Results
04 Nov, 2017 • event page • all results
Results: Elite Men1.Marten Van RielBEL01:42:36
2.Vicente HernandezESP01:42:39
3.Andreas SchillingDEN01:43:04
4.Jelle GeensBEL01:43:25
5.Uxio Abuin AresESP01:43:30
6.Delian StateffITA01:43:30
7.Sam WardNZL01:43:31
8.Rodrigo GonzalezMEX01:43:32
9.Jonathan WayaffeBEL01:43:38
10.Matthew SharpeCAN01:43:43