CYCLING
Gravel road will up the ante in top men's road cycling race
By NZ Cycle Classic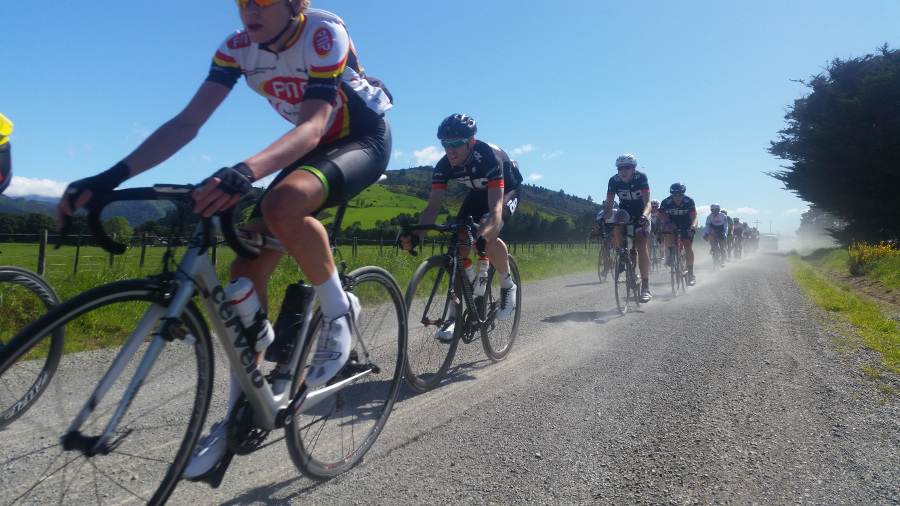 Leader's jerseys may change hands across the three race categories as the Trust House North Island Teams Series race three takes place this Sunday and all eyes will be on a 2km section of gravel road in Martinborough with riders completing three laps of circuit.
Race director Jorge Sandoval says the new circuit should prove very challenging to all riders as has never been use before for a bike race.
Riders will race from Martinborough to Tora, turning back after 36km of racing and just before the gravel road. Just before Martinborough, riders will turn left onto Shooting Butts Rd to start an 8km circuit that contains a gravel section of 2km long. Elite riders will complete three laps of this circuit with masters doing two laps, the gravel road could have a major impact in the race.
"Racing on gravel roads could make or break anyone's lead as punctures and crashes are easier to occur, says Mr Sandoval. "Riders will have to concentrate more as bikes respond different to gravel roads and the riders' bike handling skills will play a major part. Team managers will also have to make sure their team mechanics are on hand for any requirements every time they go past this point in the circuit."
Racing on gravel is becoming popular in major cycle races overseas, especially in races like Tour de France, Giro de Italia and the other major one day races who try to emulate cyclists of years ago racing entirely on gravel road.
leading riders are looking forward to the new circuit on Saturday and they all have their own ideas of what may happen.
Race leader in the elite and Under 23 grade 18 years old Madi Hartley Brown is feeling confident about riding over the gravel "Gravel uses an entirely different skill set then just your ordinary seal, the difference of something simple like a line choice can make the difference."
"I think a bit of gravel is great for the race, it just adds that little bit of excitement and uncertainty and potentially could shake up the overall standings. I think the gravel and the tough course added together should see some aggressive and fast racing." Says Hartley Brown.
Top national riders Josh Page who sits currently in third place after two rounds is another rider who enjoy the gravel roads.
'I'm really looking forward to this weekend's race, it looks like a really tough course with some solid climbing to blow things apart early on but with 2 laps of a circuit with gravel sectors anything can happen."
"Riders who can climb and get in a breakaway early could quickly find their lead wiped out if they have poor skills on the gravel or an untimely puncture, and with the climbs starting only a few kilometres in and the gravel ending close to the finish, this race will be wide open right up to the finish. With our team having 3 riders in the top 5 overall we have plenty of cards to play this weekend." Page says.
Local Wairarapa Tararua Builders Racing and Avanti Plus Masterton teams will be out in force to try and gain points to move up on the teams classification. Glenn Kirk in masters one and Eddy Kuipers and Jeff Saywell are the best place riders at this stage.
This Sunday is a perfect opportunity for people to come out and watch the race with great vantage points for spectators at the gravel section at Shooting Butts Rd, the first riders should get to the circuit around 11.45am.
All grades complete the same circuit.