KAYAKING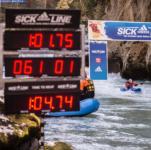 Nouria Newman (FRA) and Sam Sutton (NZL) win 10th adidas Sickline Extreme Kayak World Championship
By quattro media GmbH
Oetz (sgh) – The infamous Wellerbrücke rapids in Ötztal, Austria, were once again the worthy stage for the adidas Sickline Extreme Kayak World Championship. For the tenth anniversary edition of the event 175 of the world's best kayakers from 33 different countries gathered to find the ideal – or 'sickest' – line on the challenging race course. The relatively high water levels already guaranteed fast times in an exciting series of knock-out rounds, and with a new course record of 53,80 seconds set by multiple Freestyle World Champion Dane Jackson in the semi-final, the battle for the prestigious sickline belt in the final was going to be a close one.
The adidas Sickline Extreme Kayak World Championship is truly unique as it brings together athletes from all the individual kayaking disciplines, extreme expedition paddlers, freestylers and Olympic slalom kayakers, to compete against one another on a world class stretch of whitewater. For the 10th anniversary edition almost all of the previous World Champions were at the start line, except for Joe Morley (2013/2014) und Sandra Hyslop (2016). And all of these six previous World Champions, namely Thilo Schmitt (2008), Alexander Grimm (2009), Sam Sutton (2010-2012), Gerd Serrasolses (2015), Aniol Serrasolses (2016) and Mariann Saether (2015), qualified for the actual World Championship battle on the 280-metre long Wellerbrücke race course, on which only the top 52 men and top 8 women are allowed to compete.
Prominent Upsets On Unpredictable Course
The quarter and semi-final knock-out rounds already saw some prominent upsets; Gerd Serrasolses (ESP), Thilo Schmitt (GER), Fabian Dörfler (GER), Honza Lasko (CZE) and Vavrinec Hradilek (CZE) were kicked out while Jamie Sutton (NZL), Mathieu Dumoulin (FRA) and Mikel Sarasola (ESP) reached the final of the top 16 men with a lucky loser ticket.
"I was having a decent run and I thought I was going to have a good Champions Killer, but unfortunately as I hit the boil, I lost balance and I flipped so I had to roll and that cost me a lot of time, so I'm out for today", Gerd Serrasolses said after his quarter final heat. Olympic silver medallist Vavra Hradilek had a blistering fast run in the quarter final – in fact he set a new course record of 0:54,41. However, that time was undercut by Dane Jackson in the semi-final; in that round Vavra was 2.5 seconds slower than before.
"The run wasn't good from the beginning", he said. "Then I tried to focus on the lines and the crux moves: TNT and Champions Killer, both didn't go really well, but still, you know, I was happy to be there with Sven. Sven deserves the final as well. I think I missed out the final by a really close margin, but that's fine - I've been kayaking here the whole week so I'm happy. It's just an awesome section we race on and it's a beautiful river. A lot of good people participate and we all really share the vibe - it's just a good vibe so no matter if you lose or win, you always come out with a smile: maybe with a bit of frustration, but that always washes away at the after-party."
The women's semi-final saw Mariann Saether flip in the TNT cataract, so the run of the 2015 World Champion unravelled and she lost her heat against Jennifer Chrimes.
"We're whitewater kayakers and we know this can happen once in a while", Mariann said. "You just make a slight mistake and then the consequence is pretty big. For me, I made a slight mistake in a place I usually don't have any problems and it cost me 20-25 seconds. At least, I'm proud of not swimming, and obviously I knew that the race was over at that point, but I was trying to just get out of the sticky place I was in and then I nailed my lines afterwards, which I'm also a little bit proud of. Of course, it's very disappointing when that happens in a competition."
Nouria Newman Finally Claims Extreme Title
The women's World Championship final was up first today and pitted 2015 adidas Sickline Silver medallist Jennifer Chrimes against the 2016 silver and bronze medallist Nouria Newman (FRA) and Martina Wegman (NED), along with Anne Hübner (GER) and Marieke Vogt (AUT). Nouria had put down a marker in the semi-final, with a new female course record of 1.00,57 and as such was most spectators' favourite to win in the final.
Nouria, one of the most talented whitewater athletes out there, was the last in the start order. She fired off the seal launch and took off with a very fast stroke rate, benefitting from her strong slalom background. The 26-year old nailed a perfect line through the TNT cataract and Minus 1, she also took a smooth line through Champions Killer, but then got pushed a little bit too far right slightly hitting a rock. Nevertheless, she crossed the finish line after 1:01,75, which was the second fastest female time of the day, 2.99 seconds faster than Martina Wegman who finished in second place and 7.66 seconds faster than Jenny Chrimes who came in third.
"It feels great to become World Champion!" Nouria said. "It was frustrating last year to have good runs all the way through to the finals and then mess up my final run. To be able to pull it together today, just makes me really happy. And I hope I can come back next year and have more clean runs and try to be even faster. It's a big race, everyone is fast - so to just manage to have a good run in the final and take the win is just a great feeling, I'm really happy - it was hard."
Martina Wegman who won her first silver medal at the adidas Sickline Extreme Kayak World Championship today, revealed later that she didn't expect to do so well this year. "I'm super happy with second place, I was way more scared this year than in previous years. I just had an awesome slalom season, but haven't been in a plastic boat much, so I was a bit shaky at the start. I'm super stoked to come out in second place. I think Nouria Newman really deserves the adidas Sickline World Champion title."
Third placed Jenny Chrimes could barely believe what she just had done. "I'm so stoked, I didn't even think I would make it through the last qualifier", she said. "I've not been paddling all summer as I've been injured, so I'm pretty sore right now. To make it to the final was a huge achievement for me - and to make it onto the podium seemed impossible." Sam Sutton Does It Again
Next, 16 of the world's best male kayakers from 10 different countries lined up for the final. After some great performances – all times in the final were sub one minute - it was 31-year old Alexander Grimm from Germany, who snatched third place in 0:55,39, ahead of Dane Jackson (0:55,85). The 2008 Olympic Slalom Champion mastered all key sections without any visible mistakes. Being patient enough to set the crucial late boof stroke at "Champion's Killer", Alex got a great boost out of the drop and towards the finish line. He claimed third place and yet another adidas Sickline podium after winning the event in 2009.
"I'm very happy to be back on the podium after 2009", Alex Grimm said. "It was a hard race. The guys nailed some sick lines today and it was an exciting final. I had a good run, too. I was able to improve in each round today. It couldn't have gone better."
Last year's adidas Sickline Champion Aniol Serrasolses from Spain had a slightly disappointing semi-final run, but in the final the 26-year old Catalan was back to his best. Flying through the TNT cataract and the Champions Killer Minus 1, Serrasolses showed why he is one of the most respected athletes on the scene. He kept an almost ideal line throughout his final run dropping Champion's Killer with ease and paddling hard towards the finish line, which he crossed in a time of 0:55,17 seconds. At the end it wasn't enough to defend his title, but he could still claim second place.
Kiwi Sam Sutton who lost his victory to Aniol last year by only one hundredth of a second had some unfinished business in Oetz. After nailing the second fastest time in the quarter final and the third fastest time in the semi-final, he was hoping to find his sickest line in the last round. And he did.
"So, in my final run I had an awesome feeling at the start, I was like just go out and enjoy it, you never know if this is your last Sickline Sam", he said, "so I was pretty stoked just to push off and carry on down. I made a couple of little mistakes at the start, and thought 'Oh no!' but then I managed to pull it together. I was a little bit out of control, but tried to keep the boat moving and then I was reasonably happy with my time." Sam was hoping to be one second faster, but the 0:54,89 he clocked at the finish line were fast enough to claim the title today, as neither Hannes Aigner nor Dane Jackson, who started after him, had faster runs.
"It feels really surreal and I mean, it's always something that I have wanted to do, win another one - but it has taken bloody ages since my last one", Sam said. "I was pretty stoked just to come here and you know, I'm getting older and it seems harder and harder, because I find less and less time to go kayaking. I feel sorry for Dane because he was the fastest out there today, it was his race to lose, but I'll take his loss as my victory. And it's good to switch it around with Aniol. Last year he beat me by hardly anything and he's an incredible paddler. Alex stuffed it up at the start, those German muscles just marched and powered him down to the bottom - very, very impressive!"
With his fourth Extreme Kayak World Championship title, the man from Rotorua, New Zealand will go down in the history books. His achievement will most likely not be repeated, because the world's best kayakers agree that the adidas Sickline Extreme Kayak World Championship is the hardest race to win – unless your name is Sam Sutton… Result Finals Complete result list under: http://www.adidas-sickline.com/en/race-info/results/