TRIATHLON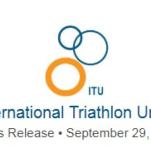 Action moves to Asia for the Weihai World Cup
By International Triathlon Union
The vibrant coastal city of Weihai is ready to welcome top triathletes from around the world for the first ever edition of the ITU 2017 Weihai World Cup.
Dubbed China's "garden city by the sea", Weihai is located on the stunning coast in China's northeastern Shandong province. The city boasts lush forests, picturesque islands, with more than 900 kilometers of beachfront and clean waters, making Weihai the perfect location for triathlon.
After years of hosting Long Distance ITU races, Weihai debuts in the World Cup circuit with the Olympic-distance format. Athletes will swim 1500 meters over two laps in the Halfmoon Bay to then face six laps of 6,7km each on a technically demanding bike circuit with hills and a few technical corners. For the 10km run, athletes will do four laps on a flat circuit along the seaside.
Men's Preview
A total of 34 men will dive in the waters of the Halfmoon Bay in Weihai to claim the first ever World Cup title up for grabs in the Chinese city. Among the ones to watch, a man with a really strong background when it comes to the end of the season: Uxio Abuin Ares (ESP). The Spaniard won his two first World Cups last season in Korea and Japan, the last two events of the season, and just a week ago proved that his form is improving, finishing third in the Huelva World Cup among an impressive field.
Along with Ares will be another Spaniard, Antonio Serrat Seoane, 5th in the U23 World Championships two weeks ago, and again another triathlete consistently performing well in the last races of the season.
Also in the men's field, the South African Wian Sullwand will be one to keep an eye on, wearing the golden number 1 and trying to grab his second podium of the season after finishing third this year in Cape Town. Even though his last two races, in Karlovy Vary World Cup and the Rotterdam Grand Final, were a bit disappointing for him, Sullwand is one of the strongest swimmers in the field and will be likely to collect some hardware in Weihai.
Racing alone instead of alongside his brother is Igor Polyanskiy. The Russian didn't have a great season in terms of results this year, but he is one of the strongest athletes in both the swim and cycle on the Weihai start list.
A pair of Japanese athletes, Jumpei Furuya and Yuichi Hosoda, will be trying to make some waves in Weihai. However, the crowds will be in favor of the Chinese athletes participating this Saturday in the Elite races, especially Chen Liu and Zhihang Jiang. Both have raced in Weihai before when they hosted Long Distance races and will enjoy the familiar yet challenging bike course.
Women's Preview
A breakout star of the year will be racing this Sunday in Weihai: Jolanda Annen. The Swiss rising star finished 10th in the World Championship this year, after collecting her first ever victory in a World Cup in Cagliari and her first ever top-five finish in WTS Edmonton.
She will have to keep an eye on her neighbor, Lisa Perterer (AUT), who just collected a bronze medal in the Yucatan World Cup and is aiming to increase her collection of medals, if possible with one different than the bronze she already has.
Another lady who knows what it is to top the podium on a World Cup this season is Aussie Emma Jackson, winner in Mooloolaba and fifth more recently in Karlovy Vary. Jackson will be quite used to hot and humid conditions like what athletes will face in Weihai.
And even though Sprint distance races are usually better for Russian Elena Danilova, her strong skills on the bike will make her one of the strongest contenders for this race.
ABOUT THE RACE: It is with great pleasure that we return to the beautiful city of Weihai after this coastal city has been hosting successful ITU events since 2010. This year marks the first year Weihai hosts a World Cup event. Triathlon has a great history in Weihai and it is a delight to hold yet another race in the beautiful city.
Weihai provides a challenging course, especially for the bike leg that runs along the beautiful seaside roads, providing the athletes with a number of physically demanding hills and corners.
SCHEDULE:
Elite Men - Saturday 30 September - 08:00 local time Click here for time in your area
Elite Women - Saturday 30 September - 10.45 local time Click here for time in your area
WEBSITES:
http://www.weihai-triathlon.org/col/col32043/index.html
START LISTS:
Click here for the women's start list
Click here for the men's start list
PRIZE MONEY:
$60,000 USD (equal for men & women)
LIVE COVERAGE:
Live updates and live timing from #WeihaiWC will be available on race day at triathlon.org/live, and at @triathlonlive on Twitter.
COURSE PROFILE:
Swim - 1500m - Halfmoon Bay, 2 laps. Ocean conditions. Possible wetsuit swim.
Bike - 40km - Asphalt, seaside roads, hills, and corners, technically challenging. Six laps of 6.7 km each.
Run - 10km - Asphalt, flat roads, and seaside wood path, 4 laps.
Click here for a course map