TRIATHLON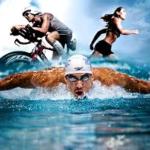 Top triathlon training tips for the summer season
By Anne Wild & Associates
26 September 2107, Sydney, AUSTRALIA - Fresh from his recent podium finish at the Beijing International Triathlon, Australian Olympian, SuperLeague competitor and Atkins LIFT brand ambassador Ryan Fisher shares his top training tips for the forthcoming summer triathlon season.
With three distinct disciplines to prepare for – swim, ride and run – Gold-Coast-based Ryan says the key to getting in shape and physically preparing for a triathlon, whether it's your first or your fiftieth, is to divide, conquer, and focus on efficiency.
Rather than countless heavy-duty sessions in the gym, Ryan recommends channelling your energy into perfecting your technique for each leg, and then watching the results flow from there.
The Swim
· Start swimming twice a week at least two months before race day
· As quickly as possible, build these swims up to one-kilometre each
· Include practice ocean swims
· Practice looking up every 50 to 100 metres as you swim to get into the habit of seeking out the buoys
· If the swim isn't your strongest discipline, hang back at the beginning to avoid the melee of arms and legs – a calm start will help you quickly catch up
The Ride
· Hill intervals are the key to an efficient ride – and a faster finish
· Don't ride on a daily basis, allow days in between to recover
· Endurance rides of two or more hours at a moderate effort level (twice a week) will build endurance
· Practice riding on the road – preferably with other cyclists
· Consider buying a stationary trainer to plan timed workouts without traffic lights, rain, wind – or cars
The Run
· The run typically has the biggest influence on the end result – so it's essential you nail it
· To build speed and endurance, run three times a week – not every day
· Focus on your form to help you achieve the best possible result, with the most efficient effort
· Practice looking ahead – 10 metres or so – as you run to boost your posture
· Use the beat of a song at the pace you're planning to keep
· Remember to swing your arms to help set the tempo
Of course, there's more to triathlon training than the rigours of physical training, although at the elite level, Ryan commits to between two and three full-on sessions every day, with a long slow run along the coast on Sundays.
Nutrition also plays a key role in any tri training regime, and Ryan says his low-carb high-protein diet helps him with muscle recovery after any hard core training session. Ryan was recently appointed brand ambassador for Atkins LIFT, a range of protein-packed bars specifically created for active people on the go.
"I find it tough to eat a heavy meal after a race or workout, so a LIFT bar is perfect to ward off hunger pangs, but still give my body the protein it needs for muscle restoration. They're low-sugar, low-carb, and gluten-free, contain 21 grams of protein in each bar, and help give my body an instant hit of amino acids in an easily digestible way," said Fisher.
"With up to three training sessions a day, and a lifelong sweet tooth, Atkins LIFT bars tick all the boxes. They keep me energised, boost my protein intake and satisfy my constant cravings for something that tastes like a sweet treat – but without the high-sugar, high-carb content," he added.
The Atkins LIFT range is available from Woolworths supermarkets, Chemist Warehouse outlets, Priceline pharmacies and National Pharmacies. RRP $4.00 per bar.