MULTISPORT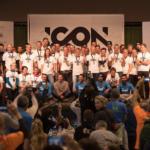 Livigno Triathlon Xperience the best choice for international athletes
By Get-S Communication
From 29th August until the 3rd September Livigno became the centre of the multisport, thanks to a long weekend dedicated to those who love triathlon and aim at living the outdoor sport in an active and special way.
Only one week after Livigno Triathlon Xperience, the event's evaluation can only be positive due to the host location and the organisation team, Eco race.
Although the unlucky bad weather that lasted for 3 days, athletes and audience really enjoyed the races. Livigno confirmed itself as perfect location to welcome an international community of sport lovers.
24 countries took part to the event: Romania, Belgium, Norway, Hungary, Switzerland, GB, Denmark, Russia, Austria, Croatia, Spain, Holland, Czech Republic, France, Brazil, Venezuela, USA, Slovenia, South Africa, Germany, Australia, Bahamas and Italy of course.
ICON, the great novelty in the international field of extreme long distance triathlon, was the most awaited event, with registrations 3 times higher than the one from last year, which was the debut edition. Livigno Stelvio Triathlon, Livigno Triathlon Cross Country and Livigno Triathlon Sprint also had role in the success of this sport festival, a great intuition of Eco race.
Luca Lamera, Eco Race Team Leader says: 'This year the weather hasn't supported as last year, but we still managed, thanks to the team effort, to guarantee the right development of the races and the greatest safety for all the athletes. Icon is for us the main race in this sport kermesse. However, this year we had the confirmation that also Livigno Stelvio Triathlon, the off road triathlon race, and the sprint distance have a great potential and athletes enjoy both of them. As always, Livigno confirms to be an exceptional partner satisfying also the highest expectations, thanks to a precious logistic support and the extraordinary beauty of its land. The evaluation of these events has to start by saying thanks to APT Livigno and the Costaccia Shelter within the Mountain Park of Carosello 3000, to all our volunteers, to the company who believe in us, to the spectators along the routes and certainly to all the athletes who once again have showed us esteem and affection"
Luca Moretti, President of APT Livigno: "It is part of the active and sporty personality of Livigno, strongly characterized by an alpine imprint, to support events that connect men with nature. Our mountains, with peaks above the 3000 meters, our paths that touch the sky, our lake that touches slightly
the Swiss national park and the one of Stelvio, are our openair gym, that challenged very strong triathletes. Livigno believes in competition such as this one, that also offers a great international visibility.
The date with LTX is confirmed for next year. The announcement about the 2018 edition will be out soon.