MULTISPORT
Champion swimmer Burmester taking on bucket list challenge the Kathmandu Coast to Coast
By enthuse media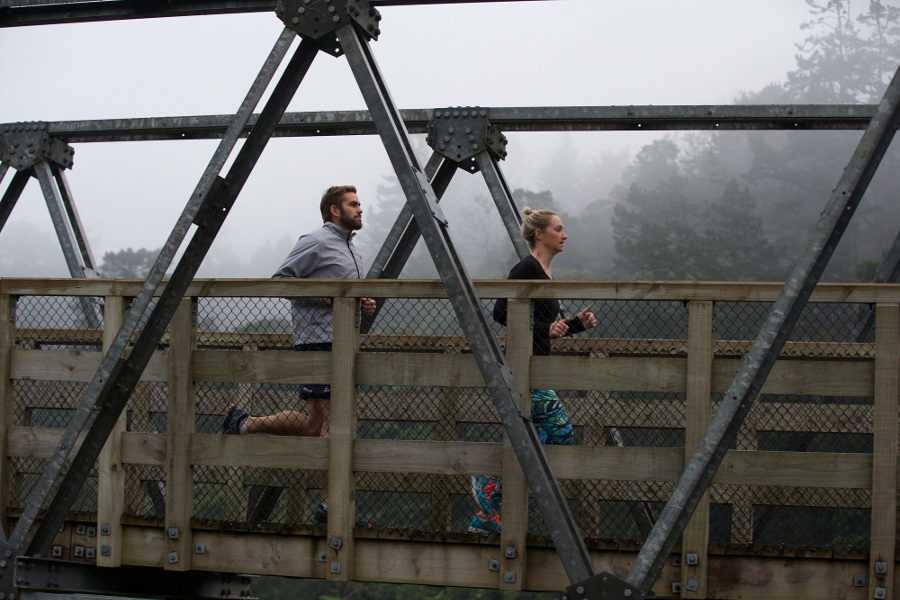 Moss Burmester, two-time Olympian, Commonwealth Games champion and World Champion swimmer, is looking forward to taking on his 'bucket list' challenge, the Kathmandu Coast to Coast, in a tandem team with his partner Carolyn Arthur.
Since retiring from swimming in 2010 Burmester has stayed active through spearfishing and freediving but nothing close to his previous swimming schedule. With Arthur, a New Zealand age-group triathlete encouraging him to try new sports, they both can't wait to line up on the start line for the Kathmandu Coast to Coast in February.
"I've always wanted to do the Kathmandu Coast to Coast but obviously couldn't when I was swimming seriously," he said. "I am 36 so the Coast to Coast happens to be the same age as me and it's always been on my bucket list to do. I'm really looking forward to the shared journey with Carolyn, of not only doing the actual event, but the training and lead up to February as well."
The adventurous couple plan to share their journey and build up in getting to the start line of the iconic event with a focus of leading from the front with the hope of inspiring and encouraging others to get out, get active and embrace sport for fitter healthier living. They plan on sharing the highs, lows, struggles and learnings and can be followed on Facebook - Moss Burmester NZ Athlete and Carolyn Arthur - Everyday Athlete.
The tandem event involves both competitors doing the entire course over two days together, staying within 50 metres of each other on the bike and run sections while paddling the Waimakariri River leg together in a double kayak.
"There's no doubt we'll learn a lot more about each other," Arthur adds. "He's already stronger than me on the bike, so seeing how training progresses should be interesting. We're both competitive, and that competitiveness definitely makes things interesting at times."
The couple both have some kayaking experience, but mainly ocean kayaking with no real experience of white water, so have approached New Zealand's most successful Olympian Ian Ferguson who won four Olympic gold medals and one silver as a kayaker, for some support and advice.
Their weekly training includes three to four bike rides, two runs and a run squad, two swims and at least two kayaking sessions and they've already started some weekend training and racing adventures away. They recently took on the Whangamata Adventure race and the Coromandel Classic as lead up races for the Kathmandu Coast to Coast
Burmester says that with both of them being highly competitive, they do motivate each other, trying to outdo each other in training sessions that are often full of competitive banter.
"Carolyn is a much better runner than me, but I can claim the swimming, but know that we hopefully won't be swimming anywhere in February." He also says he's learning more about gravity, as when he was a swimmer it wasn't really a factor but now weighing about seven kilos more than his previous swimming race weight, he's feeling 'gravity' when riding and running, especially uphill.
Burmester got back in the pool this year to compete in the World Masters Games held in Auckland. After just over a month of solid training he competed in five individual pool events, two pool relays and the two and a half kilometre open water race picking up eight medals and five New Zealand masters age records.
"I love a challenge and this is one of the key values and messages I have always tried to push," he said. "Challenging yourself is the key, it doesn't mean having to win, it just means you are pushing your own boundaries and exploring what you are capable of, both physically and mentally."
"New Zealand is the greatest most beautiful natural play ground in the world. I have a huge appreciation for it and have always tried to encourage others to get out and explore it more. So training for the Coast to Coast is a great way to do that and getting to share it with my partner makes it even better."
Organisers are excited with the early interest in February's Kathmandu Coast to Coast, highlighted by the early bird discounted entry fee selling out for the first time. "We received a massive surge in interest in the special early bird entry offer and sold out for the first time which is just fantastic," Event Director Richard Ussher said.
"We have a lot more interest much earlier than we've had in recent years with more female entries too which is really encouraging. We are tracking towards one of the largest fields ever seen at the Coast to Coast which is really exciting; it seems everything we've be working on to make improvements and grow the event again is just coming together which is especially pleasing."