MTB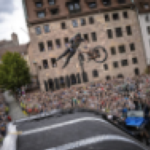 Nicholi Rogatkin puts it all on the line to snatch exciting Red Bull District Ride win.
By Pool Red Bull Newsroom
The fifth edition of Red Bull District Ride went right down to the wire in Nuremberg with Rogatkin snatching victory in the final moments.
The American, 21, had already won the Best Trick contest on Friday evening and ensured his weekend was an even greater won by overcoming Emil Johansson in a tense battle on the streets.
Johansson was leading after a phenomenal first run in the old town of the German city but the teenage Swede could do nothing about Rogatkin's second effort, which included a stunning 1440 cork.
Szymon Godziek completed the podium at one of the most prestigious freeride mountain bike events in the world.
Rogatkin said: "I was so motivated up top on the roll in, I had to give 100% in the run but my confidence was pretty high dropping in.
"The jump is so big you are just dropping in hoping it is the right speed. You never know what is going to happen but I made it happen when I needed to and I am so thankful for that.
"This sport is progressing at an astronomical rate, all of us are going to keep pushing and who knows where it is going to go."