MULTISPORT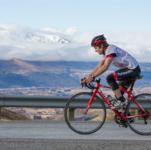 Athletes flock to Queenstown for Torpedo7 Peak to Peak event
By Southern Traverse
The Torpedo7 Peak to Peak, New Zealand's leading winter multisport event, is being staged in Queenstown for the 24th consecutive year on August 12 and will attract some of the country's most high profile multisport athletes.
The race starts high on the Remarkables Ski Area and finishes on the other side of the valley at Coronet Peak Ski Area incorporating skiing/snowboarding, mountain biking, kayaking, running and cycling over the 44km course.
Race Director Geoff Hunt says the event continues to attract elite athletes who seek to match the times of the past champions like Mark Williams, Dougal Allan or Steve Gurney, but it's also a race that's achievable for all levels of competitors.
"For people who like to do multisport events or want to start out, the Peak to Peak offers a great opportunity either to race as an individual or in a team. While the top of the field battles it out for individual honours it is the teams' event which always creates the most interest with strong competition and great camaraderie."
Torpedo7 CEO Andrew Scott says supporting Peak to Peak is a natural fit for the adventure sports retailer.
"We're thrilled to get behind Peak to Peak again this year. What we love about this event is that it not only encourages Torpedo7 Athletes, like Hamish Fleming and Gavin Mason, but it also encourages other Kiwis no matter what their skill level, to get out there and give it a go.
It's great to see the uptake in junior teams entering this year including the 7Torpedos, it goes to show that adventure sports are only going from strength to strength in this country."
The race begins with a 2km ski or snowboard on the Remarkables down to the access road and is followed by a 17km mountain bike down the gruelling high altitude road to the shores of Lake Wakatipu at Frankton.
A 7km paddle on the lake is completed in Queenstown Bay where the changeover is made for a 9km run from Queenstown, through Arthurs Point to the Swiss-belresort Coronet Peak near the Coronet Peak turnoff.
The last stage which is always hotly contested is a 9km cycle up the challenging ski area road to the base building and the finish line.
Race categories include male, female, veteran and juniors individuals. The teams' sections includes open, female, mixed, business house, school or veteran.
"Every year there is great interest in the Topedo7 Peak to Peak," says Hunt. "We are seeing more women and more teams taking part in particular and there is always a huge buzz around the event. There is something about standing at the top of The Remarkables and looking across to Coronet Peak at the finish line, and knowing that is the goal to achieve.
People who complete the race for the first time find it hard to express just how satisfying that achievement is."
In 2016 two junior school teams entered and locally this has generated a huge amount of interest with up to six or seven teams coming out of the local primary schools to compete this year
"It is good to see more and more juniors entering the Peak to Peak either individually or in school teams," says Hunt. "We are a good training ground for up and coming multisport and adventure racers. Whatever level competitors are at there is always a great sense of achievement about participating in the iconic race."
2016 results
1st Men Open Category, Hamish Fleming
1st Women Open Category, Floorjie Grimmett
1st Team Open, Valley Strength and Conditioning Dn
For more information, or to request high res images please contact:
Geoff Hunt
0274 967 530 geoffjhunt@gmail.com
or
Sarah Leaning PR Manager
Torpedo7, The Warehouse Group
Sarah.leaning@thewarehouse.co.nz
High Res photos are available here on flickr