ORIENTEERING
Tommy Hayes runs hot at Junior World Orienteering Champs Sprint
By Malcolm Ingham
Tommy Hayes has continued New Zealand's excellent run of performances at the Junior World Orienteering Champs (JWOC) sprint with a fabulous 8th place finish in the streets of Scuol, Switzerland.
Tommy's time of 13:21 was only 17s behind 3rd in a race in which host nation Switzerland finished 1st, 2nd, 4th and 6th! Second best Kiwi was Devon Beckman in a highly creditable 46th place out of a men's field of 170.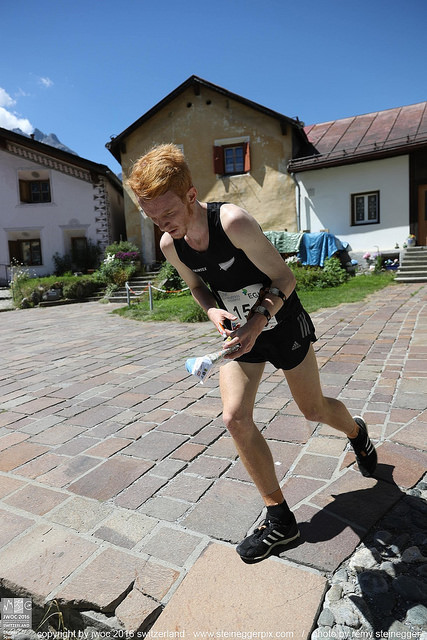 Switzerland were also victorious in the women's race in which Danielle Goodall was the top New Zealander in 37th place – again an excellent result in the field of 146, and with several more JWOC's to go.
Route choice was obviously critical and required careful consideration of both distance and climb. Both men's and women's courses featuring a very long leg before a twisting and turning last section with multiple specially erected uncrossable fences.
Australia also had a top result with Henry McNulty finish one place and one second in front of Tommy.
Men:
3.7 km, 100 m climb. 1. Joey Hadorn (SUI) 12:47, 2. Thomas Curiger (SUI) 12:56, 3. Isac von Krusenstierna (SWE),
8. Tommy Hayes (NZL) 13:21, 46. Devon Beckman (NZL) 14:15, 65. Cameron De L'Isle (NZL) 14:37, 90. Ed Cory-Wright (NZL) 15:05, 116. Shamus Morrison (NZL) 15:45, 119. Matt Goodall (NZL) 15:48.
Women:
3.3 km, 85 m climb. 1. Simona Aebersold (SUI) 13:13, 2. Anna Dvorianskaia (RUS) 14:05, 3. Anna Haataja (FIN) 14:08,
37. Danielle Goodall (NZL) 16:02, 53. Alice Tilley (NZL) 16:22, 88. Katie Cory-Wright (NZL) 17:19, 100. Kayla Fairbairn (NZL) 17:49, 106. Sonia Hollands (NZL) 18:08, 113. Lara Molloy (NZL) 18:35
Official website:
www.jwoc2016.ch