FEATURE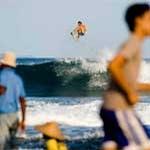 Tips for your First Bali Surf Trip!
By LUEX
Bali, the '
Island of the Gods
,' is quite literally surf paradise: the water's warm, the waves are plentiful and consistent, the parties are pumping, everyone seems to be beautiful, the food is delicious and cheap, the landscape is gorgeous, and cruising around small roads through the rice paddies on a scooter in the sunset is just as much fun as it sounds.
Bali is a pilgrimage that every surfer should make at least once in their lives, so are some tips to help you make the most of your first trip.
1. VISAS
Bali's visa regulations seem to be constantly changing, and can be a total headache; it's best to check current the rules with the Indonesian embassy in your country before travelling. Bali now offers free 30 day on arrival visas to citizens of many countries around the world, which is all you need for short trips. If you want to stay for longer then you need to pay for the 30 day visa on arrival, which can be extended by an agent in Bali (ask around for the best in the area you stay in), or send your passport to your nearest embassy with some cash for a 60 day tourist visa.
2. TRAVEL
Bali is a major tourism destination, and flights into the capital city Denpasar are easy to come by and can be surprisingly affordable. Flying from many destinations around the world will involve a stopover in another international airport hub, such as Dubai, Kuala Lumpur, Singapore, or possibly Jakarta. You can use
Skyscanner
check routes, and
LUEX's list of airline surf baggage fees
to check how much it'll cost to bring your boards.
When you exit customs in the airport, expect to be approached by a swarm of touts trying to help you with anything from carrying your luggage to organizing a taxi ride. Payment will be expected even if you didn't ask for help, so a firm "no thanks" is the best way to avoid being fleeced.
Most of the taxi drivers at the airport seem to wait in hope of ripping off ignorant and travel-frazzled tourists, so unless your hustle is strong and you think you can negotiate a fair rate, it's best to organise the transfer to your accommodation in advance. Most hotels and surf camps will be happy to arrange this for you, but if staying in a private villa you can use Facebook groups like
Canggu Community
to find a local driver who'll charge a more reasonable fee. Uber is cheap and works very well in much of Bali (Canggu less so), and you can use the free wifi in the airport to organize a ride if you haven't made prior arrangements. Alternatively just call for a Bluebird Taxi to come and pick you up - Bluebird are by far the most reliable taxi service in Bali as all their cars are equipped with meters (just make sure to check the driver turns it on!).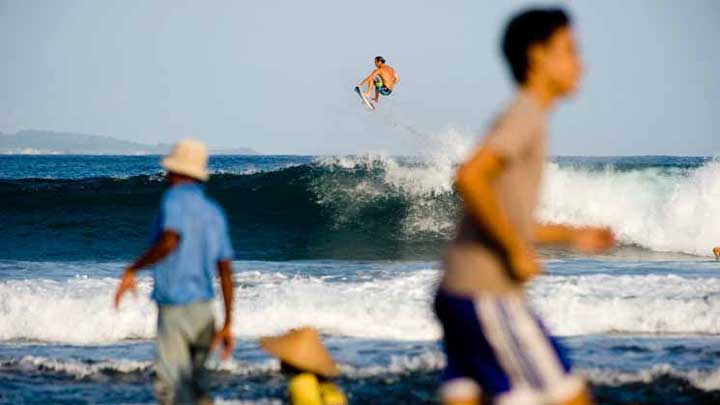 Photo © Red Bull Content Pool
3. WHERE TO STAY?
Bali isn't all that big, so it's easy enough to get around to many different areas and spots even in just one day. That said, pretty much all the surf action is concentrated on the southern edge of the island, from Keramas in the East, down to the fabled Bukit Peninsula, then westwards past Kuta and Canggu up to Balian and Medewi. That said, most surfers visiting Bali will stay in one of four places: Kuta, the Bukit Peninsula, Seminyak or Canggu.
Kuta is the closest to the airport, and probably the main hub of tourism in Bali. I'm sure there are some nice parts of Kuta… Most of it however is a heaving cesspit of drunk tourists, drug-pushing pimps, dirty narrow streets, and brash, sweaty nightclubs populated with Aussie bogans and Brit lager louts. If you're after for raucous partying it may be worth a look for a night out, but otherwise best avoided.
Heading further northwest from Kuta you run first into Seminyak, then Canggu. Seminyak could perhaps best be described as a more upmarket version of Kuta: it's very nice and fairly ritzy, but ultimately still very touristy. Canggu is still relatively undeveloped, with plenty of rice field views to enjoy. While tourism is growing in the region, most foreigners tend to be expats or on longer stays, and more culturally sensitive. Canggu hosts a treasure trove of small, cheap restaurants and cafes serving delicious meals of all origins and flavours; despite the hipster vibes, the legendary Deus ex Machina parties are great fun too.
There's also a variety of waves for all levels of surfer, from perfect beginner and longboard set ups at Berawa and Batu Bolong to more high performance waves at Echo Beach. You're not going to have the lineup to yourself, but crowds tend to be mellow and friendly – the general standard of surfer isn't super high, so you can be sure to catch a fair amount of waves. Kedungu up the coast near Tanah Lot temple can be a bit quieter if you want some solitude.
Without question the Bukit Peninsula plays host to the best waves on Bali, featuring legendary names like Uluwatu, Padang Padang, Impossibles, Bingin and Dreamland. It's also one of the most beautiful parts of Bali, drier and more arid than the rest of the island, with dramatic cliffs plunging down to incredible white sandy beaches and sapphire-like water. However, many of the waves break heavily over shallow and sharp reef, and crowds can be fairly cut-throat on a good swell; you definitely need to bring your A-game if you want a good share of waves without paying skin tax to the reef! While there's no shortage of restaurants, the dining and drinking options aren't as extensive as Canggu.
There's an incredible range of accommodation in Bali, from 5* luxury hotels and resorts though self-catering villas to cheap surf camps and losmen. The best option of you will depend on your group, budget, surf and nightlife tastes, social preferences, etc. Here's an overview of
accommodation in Bali
.
4. GETTING AROUND
For long journeys it may be worthwhile arranging a local driver or Bluebird taxi for comfort's sake, but the real vehicle of choice in Bali is the scooter: the ability to weave in and around other vehicles and obstacles on the road means you'll get to your destination faster than any other method.
There are many places to rent scooters all around the island, so just ask around where the nearest good place. Prices are negotiable, especially if you're staying for a longer period or a renting as a group; most are automatic so you don't have to worry about changing gear if you're not used to bikes. Make sure to check the tyres and brakes, and get a helmet!
Traffic is certainly hectic and can be intimidating at first, but once you get the hang of it the system works very well for scooters: car drivers expect scooters to be everywhere and are very watchful, and you can shoal like fish – safety in numbers – to cross busy intersections and get ahead at traffic lights. The Balinese tend to be quite horn happy, which is quite confusing until you get used to it. A quick beep doesn't mean you've done anything wrong - they're just letting you know where they are or that they're about to overtake you. Watch out for potholes, wear a helmet and shoes, listen out for faster bikes approaching from behind, and you'll be grand!
Petrol can be bought cheaply at the many roadside shacks, and for some reason always seems to come in Absolut Vodka bottles. The myriad winding roads can be tough to navigate, but Google Maps works surprisingly well (even with no internet, as long as gps is enabled)! Every café and warung has good free wifi, so if you get lost just pull in, grab a drink, and load up the map.
While technically you should have either a local or international driving license to legally ride a scooter in Bali, you wouldn't be the first to not... In practise, riding without a valid license may result in a 'fine' (or bribe) if pulled over by the police, though this is unlikely outside of Kuta. The size of the fine may vary depending on the officer and your negotiation skills, but it can be a good idea to keep a 50k Rupiah note somewhere where you can reach for it without flashing any other cash. More seriously, your
travel insurance
is unlikely to pay out in the event of an accident if you ride without a license.
5. SURFING
Balinese waves come in pretty much every variety and performance level you can imagine, from perfect beginner spots to scarily hollow barrels. Generally the main season is over the winter - from June to September - which sees the biggest swells and generally favourable winds on the west coast. However the summer rainy season is much quieter, and due to the might of the Indian Ocean solid swells are not uncommon. Winds tend to be offshore on the east coast during this period.
There's a lot of energy in the Indian Ocean, and if this is your first trip it might be an idea to bring a slightly bigger or thicker board than you normally use to help get into the waves. Rips can be surprisingly strong, and swimming isn't advisable at many beaches. Magic Seaweed is a great source of information for spot guides, swell forecasts and tide tables.
There are many surf schools and guides on Bali, catering for everyone from outright beginners learning to pop up to seasoned experts looking for off-the-track gems. Some are better than others, so it's always worth speaking to your travel agent to avoid disappointment.
One thing to bear in mind during the winter is that water isn't always as warm as you might imagine! Particularly during early morning and sunset sessions, a rash vest or even neoprene top can be a good idea, especially if the wind is up.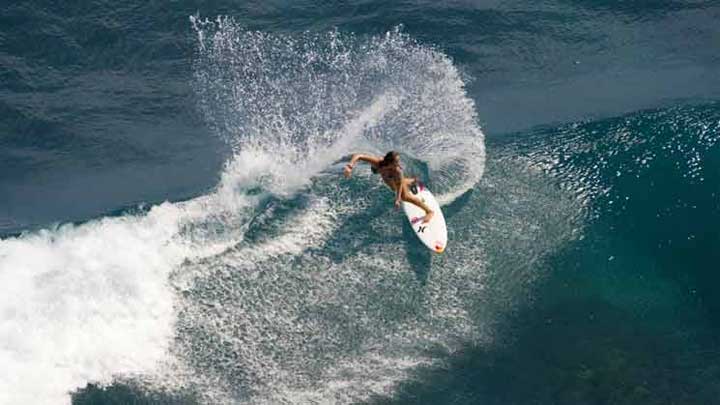 Photo © Red Bull Content Pool
6. FOOD
Balinese food is delicious! Staple meals include the quintessential Nasi Goreng and Mie Goreng – meat and vegetables served with rice, a fried egg, and spicy sambal sauce; a great option on a budget. Nasi Campur is also popular, and is essentially a lot like a buffet of various types of meat, vegetables, egg, tofu and rice or noodles. Seafood is widely-available and delicious, particularly grilled snapper, while Babi Guling – roasted pig – is a true delicacy.
However you can find restaurants serving food of almost every variety and origin in Bali, so no-one's going hungry: pizzas, burgers, curries, thai food, pies and sushi abound, and you can even find freshly baked French croissants and pastries! Vegetarians and vegans are well catered for, particular in Canggu (raw double organic wild lettuce-fed free range beetroot smoothie, anyone?), but there's plenty to keep dedicated carnivores happy too!
Breakfast is equally varied, and you'll have no problem finding anything from a Full English to healthy smoothie bowls, fresh fruit, and incredible egg-toast-and-smashed-avocado concoctions.
7. EXTRA-CURRICULAR ACTIVITIES
If you need a break from surfing, relaxing on the beach, drinking coconuts, partying and eating, there are plenty of other things to keep you entertained! There's a surprising amount to do in Bali, from temple sightseeing (Tanah Lot being the most famous) and yoga courses, to volcano hiking, dirt biking, white water rafting, elephant rides, cooking and jewellery-making classes , and diving. Take a trip inland to Ubud for yoga retreats and to check out the monkey forest, or head to Nusa Dua where the long reef provides perfect sheltered water for snorkelling.
8. BONUS: NUSA LEMBONGAN
Nusa Lembongan is an island off the coast of Bali, and is well worth a weekend trip! It's only an hour or so from Sanur by speed boat, but is vey different to Bali. The Mangrove Point at the north of the island features an offshore reef with incredible snorkeling, while breaks like Shipwrecks and Lacerations offer great waves with quiet lineups.
Lembongan is much less developed than Bali, and despite a couple of high-end resorts and dive operations, the infrastructure is charmingly terrible. Many roads are in awful condition, and the rickety single lane wooden bridge to neighbouring Nusa Ceningan can be quite exciting on a scooter! The island tends to be much quieter than Bali with fewer tourists, so is excellent for a
relaxing or romantic getaway
without the hustle and bustle of the mainland. The landscape is beautiful, with stunning lagoons, coves, and blowholes, while much of the coast is dominated by intriguing seaweed farms.