ADVENTURE RACING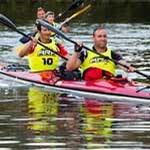 Mixed teams dominate overnight adventure races in Queensland
By In2Adventure
Neverest Road Pro premier mixed team takes out 18-hour Dark Side Championships, while Trekking Veritas Tri Adventure claims 12-hour Dawn Attack event…
It was a banner race for the team of Neverest Road Pro this past weekend in Woodford, just 1.5 hours north of Brisbane, as the four-person premier mixed team of Danielle Evans, Kirk Jackson, Todd Valance and Gary Palmer took first in the Mountain Designs Adventure Race Australia (ARA) 18-hour Dark Side Championships.
The team finished the race, which consists of multiple legs of mountain biking (70km), trail running (40km), paddling (15km) and other adventure disciplines, in a time of 13 hours 16 minutes 35 seconds, just ahead of Rogue Tiger (Jodie Willett, Liam St Pierre, Ray Deetlefs and Darren Smith) in second with a time of 13:16:57 and team Mountain Designs (Kim Beckinsale, Cass Kimlin, Michaella Trigg and Alex Austin) in third (15:24:04).
In the all-male category, Tiger Adventure (Michael Gardiner, Tim Williams, Angus Martin and Luke Riverstone) claimed top honours (20:14:49) ahead of Eye of the Tiger (Nic Droste, Craig Wright, Ben Murphy and Martin Pavelka) in second (20:46:35) and Tiger Stew (Daniel Sleswick, Maxence Bugnot, Keith Wilson and Vince McKillop) in third (24:11:56).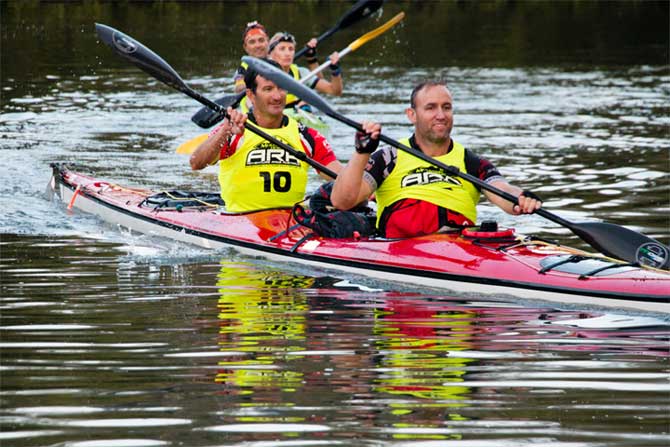 Photo © In2Adventure
In the 12-hour Dawn Attack, which featured a shortened Dark Side course, including 40km of mountain biking, 20km of trail running and 10km of paddling, Trekking Veritas Tri Adventure (Linda Thompson and John Wevers) took first in the mixed category (6:37:32). Grit & Grot (Andrea Intrapaiboon) took second (7:49:10) ahead of Tri Adventure AR (Abbey Anderson and Rick Anderson) in third (8:00:45).
In the all-female division, Tri Adventure Girls (Jan Leverton and Gina Dundson) topped the podium (6:39:05) ahead of Giddy Up Girls (Mandy Caldwell an Jen Ferguson) in second (8:01:11) and No Regrets (Jo Holgate and Nadine Lucas) in third (10:01:34). Team Mixed Nuts (Peter Abra and Darryn Kimlin) won the hotly contested all-male division in a time of 8:05, with Abbott & Chow (Jake Bowles and Mitchell Connaughton) in second (8:08:44) and Outer Limits (Reyn Watson and Sam Giblet) in third (8:09:37).
Other winners include:
Hardcore NSW/ACT
Premier Mixed:
1st – Jog On (Pippa Lyon and Jo Lyon), 3:20:22
2nd – Max Adventure (Megan Farebrother and Gary Farebrother), 3:21:26
3rd – Lifestyle (Lisa Krummer and Luke Parkes), 3:30:27
Female:
1st – Live Adventure (Lisa Antill and Kat Cassidy), 3:36:44
2nd – The Two Pink Ladies (Lynette Brigden and Vicki Humpherson), 3:49:49
3rd – Rover Scouts 1 (Heather Porter and Rose Stevens), 5:44:49
Photo © In2Adventure
Male:
1st – Belrose Bicycles (Chad Armstrong and Ryan Armstrong), 2:49:53
2nd – Dez & Shaun (Derryn Knife and Shaun Martin), 3:35:30
3rd – CDSS1 (Craig Shortt and Andy Harr), 3:39:03
Raw & Explore NSW/ACT
Raw Mixed:
1st – Team Eddowes (Tina Eddowes and Kevin Thorogood), 2:35:30
2nd – Chalea (Chas Ruffles and Leanne Rayner), 2:38:34
3rd – Team Thomson (Michael Thomson and Marika Thomson), 2:44:35
Raw Female
1st – Team Barry (Michelle Barry and Siobhan Wong), 2:40:33
2nd – Jonads (Jo Holgate and Nadine Lucas), 3:04:55
Raw Male
1st – Macca Brothers (Andrew McLachlan and James McLachlan), 1:46:25
2nd – Team Star (Matthew Bufston and Dale Stephenson), 1:49:59
3rd – Beach Boys (Daniel Fernandez and Harry Dodson), 3:04:46
Explore
1st – Team McNeil (Michelle McAuliffe and Narelle Quigley), 4:26:57
Solo
1st – Michelle Ridley-Smith, 1:32:41
2nd – Roland Wright, 1:35:32
3rd – Stephen Bertram, 2:45:57
Visit our
website