CYCLING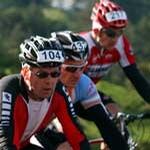 K2 Takes Flight
By Arc Events
Internationally, K2 is known as one of the world's toughest peaks. But for Kiwi cyclists, K2 means just one thing - Coromandel's Flight Centre K2 – New Zealand's toughest road ride
Since the inaugural event in 2002, this spectacular and challenging 200k tour of the Coromandel Peninsula has become one of New Zealand's favourite road cycling events. With some 40 kilometres of climbing and 2300m of altitude gain, the Flight Centre K2 combines the rigours of European cycling with the Coromandel's supreme surroundings to produce a unique challenge that has become a must-do among elite and recreational cyclists alike.
In a unique format, the Flight Centre K2 shares the start/finish venue with the four main townships around the Coromandel Peninsula course. For this year's 15th anniversary Flight Centre K2, the seaside hamlet of Tairua plays host.
Scheduled for Saturday 29th October, organisers are expecting more than 1500 riders, and with a prize pool to match the event attracts a world-class field with world champions and Olympians among past winners. But the Flight Centre K2 is much more than one of the country's top elite races. It's also a major occasion for recreational riders taking on personal challenges.
The flagship event is the full 200k Flight Centre K2, which can be done solo or in teams of two or four. But there is also the Cervelo K1, which is 100k from Coromandel township to Tairua. For road cycle rookies there is even the Nicholas Browne Quarter K, a 50k challenge from Thames to Tairua that is named after keen cyclist Nicholas Browne who died from Kidney transplant complications three weeks after riding the 2007 Quarter K.
"We're trying to provide something for everyone," says co-organiser Andy Reid. "There is an increasing amount of people taking up cycling, but not everyone is willing or able to take on a big challenge like K2. So these shorter options give them a chance to enjoy the atmosphere while they take on a challenge that suits their fitness and experience."
It was this reputation that attracted K2's new major sponsor, Flight Centre. Flight Centre NZ managing director Dave Coombes says it's fantastic to have the opportunity to be a part of making this event happen and that it's a great opportunity for Flight Centre to be able to support the local community in the Coromandel.
"We know many of our customers have grown up hearing about this race," says Coombes. "Perhaps they know someone who has completed it, have it as a 'must-do' on their bucket list or may even have completed it themselves."
"To share this New Zealand sporting and outdoor recreational event with both New Zealanders and international adventurers is a special opportunity."
Amid a prize pool valued at more than $20,000, Flight Centre are offering two return flights to Adelaide. But organiser, Andy Reid, points out that Flight Centre's promotional networks will benefit the event most.
"Their promotional reach is far beyond anything we've had before. Flight Centre's networks can help K2 make a jump to the next level with more participation both domestically and internationally."
From this year's start in Tairua, riders get a short warm up before taking on the 240m high Pumpkin Hill. But that's just a teaser before a brutal 50k over the hills of Kuaotunu and Whangaparoa to the halfway mark at Coromandel township. Then a 50k stint of mostly flat riding alongside the Firth of Thames is a welcome respite before K2's signature climb, the 14k long, 425m high Kopu-Hikuai Hill.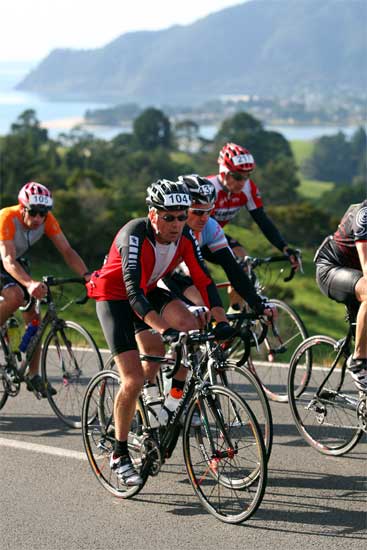 Photo courtesy of Arc Events
After Kopu-Hikuai, however, finishers are rewarded with a spectacular 40k of rolling hills down to the finish line back at Tairua. K2's 2300m of vertical climbing might sound daunting, but starting and finishing at sea level means there is just as much downhill as uphill.
"People dwell on K2's hills, but we tell them that it's 2300 vertical metres of awesome downhills," laughs Reid.
For the 1500-odd mere mortals the Flight Centre K2 is a personal challenge of some six to eight hours. But the fastest riders cut out the full 200k in under five and a half hours, with a $100 bonus also being on offer if the winner can break Jeremy Yates 2008 record of 5hrs 02min 34secs.
Organised by the regions community-based outdoor events company, Adventure Racing Coromandel, the Flight Centre K2 is an event with something for everyone. Their other events include the Great Cranleigh Kauri Run and the ARC Adventure Race and all their events benefit the Spirit of Coromandel Trust, which provides opportunities for young people to experience the outdoors.