CYCLING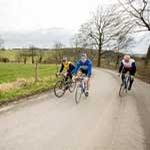 Eroica Limburg unique crossborder cycling event
By Connect Limburg
Eroica Limburg route takes shape
The ultimate global historical cycling event comes to Limburg and crosses borders.
Following the editions of Eroica in Italy, Spain, California, Japan and the United Kingdom, the first Eroica Limburg will be held on Sunday, 3 July 2016. Clad in vintage clothes and using retro bicycles, participants will follow three unique routes from Valkenburg over paved and unpaved roads.
Eroica
Eroica is more than just cycling. It is a feeling that places the focus firmly on a special atmosphere and fun for the whole family. When it comes to cycling history and nostalgia, Eroica is, worldwide, in a class of its own. The beating heart of Eroica is the non-competitive bicycle ride, in which participants are only allowed to use vintage racing bikes, clothing and accessories which are at least 30 years old. In addition to the one-of-a-kind cycling vibe, the Eroica festival in Dersaborg Park (Valkenburg) celebrates music, culture, food and drink.
Crossborder routes
Dersaborg Park in the heart of Valkenburg serves as the hub of Eroica Limburg. It is the starting point of the three routes from which participants can choose: 50, 100 and 160 kilometres. These routes cover paved and unpaved roads through Limburg, across the border into Belgium's Voeren region, Germany and back again to Limburg. The routes are different from the established routes in Limburg that we have known for years. Participants will pass places and locations that are normally off-limits to cyclists, or where owners do not usually give permission to access. For example, the Brand beer brewery in Wijlre will open its doors to allow cyclists to cross the brewery grounds for the first time in history. Valkenburg's famous caves are part of the route, too. They offer the cyclists a breathtaking and thrilling course. Eroica also features the many well-known and lesser-known historical buildings in the border region, such as Cortenbach farm, Terworm castle and Altembrouck castle, to name just a few. In fact, the beautiful historical surroundings of Altembrouck will serve as a refuelling stop. And last but not least, the stunning views of the Limburg countryside at Epen, the tri country point (Drielandenpunt) and the 'Tuscan' hills of Eys and Wittem will also be included, of course.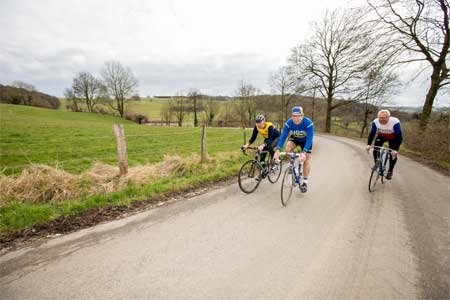 Photo courtesy of Connect Limburg
Provisioning
Along the route, participants can enjoy provisioning the old-fashioned way. These rest breaks will reflect Limburg's reputation for embracing the good life. Regional products and local beverages will replace energy bars and sports drinks. This is bound to surprise many participants. Eroica is not a timed event. Experiencing and enjoying the beautiful scenery in Limburg and the border region is what truly counts during the event.
Festival
Eroica Limburg is a three-day family event. There is more to it than just cycling. Culture, music, food and drink are also a big part of the event at the start and finish location (Dersaborg Park, Valkenburg), the rest areas and along the routes.
Exciting performances by various artists (including famous Belgian artist Urbanus), bands and brass ensembles. Tasty regional dishes, local delicacies and a proper food truck festival welcome visitors. Naturally, a number of stands featuring vintage clothing, antique bicycles and gear will be set up on the festival grounds, too. Moreover, many cycling greats will be on hand to join the crowd in taking trips down memory lane in the cyclist cafés. Dutch Tour winners Jan Janssen and Joop Zoetemelk will even be participating in the Eroica. They will bring their history-making bicycles and the jerseys they wore in world championships, Olympic Games and other major competitions. It will be a treat for everyone who is a fan of the sport. All of the activities at the start and finish locations are free, of course.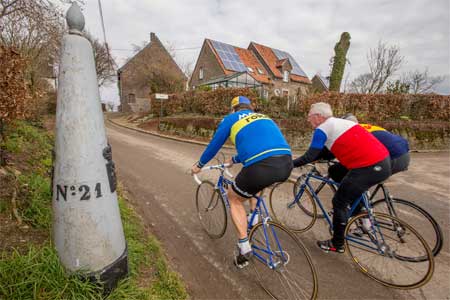 Photo co
urtesy of Connect Limburg
For more information and to register for Eroica Limburg, please go to:
www.eroicalimburg.nl
.
Access and overnight accommodation
Valkenburg is easy to reach by car, train and bicycle. You can find lots of information about the region and available accommodation on the local VVV tourist office website (
www.vvvzuidlimburg.nl
). Feel like camping? The first weekend of July would be an excellent time to rough it in the outdoors. There are plenty of campsites in Limburg as well as in the Voeren region in Belgium where you can pitch your tent or park your camper van.
Unique border region Limburg
Limburg is synonymous with cycling. When we look at the many crossborder cycling races and rides, it becomes clear that Limburg knows no bounds when it comes to cycling. The people of this unique frontier province wholeheartedly embrace all forms of cycling: whether recreational or athletic in nature. This region in the heart of Europe is known as the birthplace of race cycling. When we think of cycling in Limburg, the many hills and upward climbs are what first spring to mind. However, the Netherlands' southernmost province is also ideal for recreational cycling. Not only are there many slopes, but also vast plateaus and the plains along the Maas river. It is no accident that the huge cycling network, spanning over 4000 kilometres, originated in Limburg. Each year, the dozens of cycling routes in Limburg extending into Belgian Limburg, Wallonia and Germany attract thousands of visitors. Race cycling in Limburg knows no bounds. It is just one of the many ways in which Limburgers unite people and places, by building bridges and daring to consider possibilities with neighbouring countries.
Website:
www.limburgcrossborders.com
.