FEATURE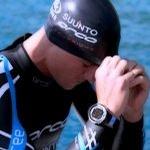 William Trubridge - notches up another world record at Vertical Blue!
By The PR Shop
15-time world record holding free diver and current freediving world champion, William Trubridge has just made the number 16 after a stunning new World Record achieved at Deans Blue Hole in the Bahamas during the Vertical Blue event.
William set this new record by diving to an incredible depth of 122m / 400ft in the Free Immersion (FIM) discipline – where he was able to use a rope to assist him in his descent and ascent.
This is a different discipline to the one William will be attempting in July where he will attempt the ultimate sequel to a dive not achieved in 2014 To free dive unassisted to 102m in a single breath, into the deepest blue hole on earth.
Steinlager Pure brought William Trubridge to the attention of New Zealand in December 2014, as Kiwis and fans around the world held their breath as he plunged into the dark waters of Dean's Blue Hole.
Steinlager Pure is proud to be standing with William and applauds yet another achievement as he returns to the deep, holding true on his promise to New Zealand to dedicate his next attempt to all the fans. Michael Taylor from Steinlager says, "The World record attempt in July is the Gold medal attempt for Will – the ultimate free diving discipline – clearly this is a sure sign his current form is on track to give it his best and make good on his promise."
William was painstakingly close to the world record 102m free dive in 2014, he made it to the marker with what seemed like ease and it was only in the last 10m of his ascent that the hurdle proved insurmountable.
Trubridge says, "I gave that dive my best shot, and I knew as soon as I got back on the pontoon that I would go down again. I'm determined to do it, even more encouraged by the support New Zealand showed me!"
In an inspiring and challenging feat William will attempt the death-defying dive again. On 21 July 2016 William will plunge, with two bare feet and one breath of air into the sinkhole. For the first 10m, the air in his lungs still buoyant, William will pull hard with his arms. After 15m the air will start to compress, becoming less buoyant. At this point gravity takes over, as Williams' weightless body sinks deep into the darkness.
By the time he hits the marker at 102m, his chest will have shrunk to less than half it's original size, his heart will be beating at a mere 25 beats per minute (well below the average resting heart rate of a fit adult). There will be no light, no sound, just the dark.
Steinlager Pure will be with all of New Zealand, rallying the support to will our world champion to the depths and back. Join Steinlager Pure on the journey.
7.40am Thursday, 21 July 2016, TVNZ Breakfast
www.steinlager.co.nz
www.williamtrubridge.com