RUNNING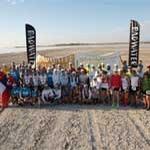 AdventureCORPS to host Badwater Salton Sea 81-Mile Ultramarathon this Weekend
By Mj Media
AdventureCORPS®, Inc. hosts the BADWATER® Salton Sea 81-Mile Ultramarathon annually in May and the fourth annual edition takes place this weekend on Sunday-Monday, May 1-2, 2016. This remarkable event challenges teams of two or three ultrarunners – running together as duos or trios for the duration, NOT in a relay – to tackle an unimaginable traverse of Southern California deserts and mountains. The race begins at 630am on Sunday morning (PST) and concludes up to 28 hours later. Ninety-two runners, comprising 39 two- or three-person teams, will compete, representing eighteen US states and nine nationalities (Australia, Canada, Germany, Mexico, South Korea, Sweden, Switzerland, United Kingdom, and USA).
The 81-mile (130km) BADWATER Salton Sea route begins on the shores of the seemingly post-apocalyptic Salton Sea in Salton City, CA at an elevation of 234 feet below sea level and traverses two mountain ranges to its finish line atop Palomar Mountain, the almost tallest mountain in San Diego County at an elevation of 5500 feet. There is a total elevation gain of over 9000 feet. Eight of the 81 race miles pass through Anza-Borrego State Park on a single track trail known as the California Riding and Hiking Trail from near Borrego Springs to near Ranchita, creating a race route which is a mix of road and trail.
Race sponsors include: Fisher Space Pen, the Official Pen of Badwater®, and Farm to Feet, the Official Sock of Badwater®, along with ZombieRunner.com.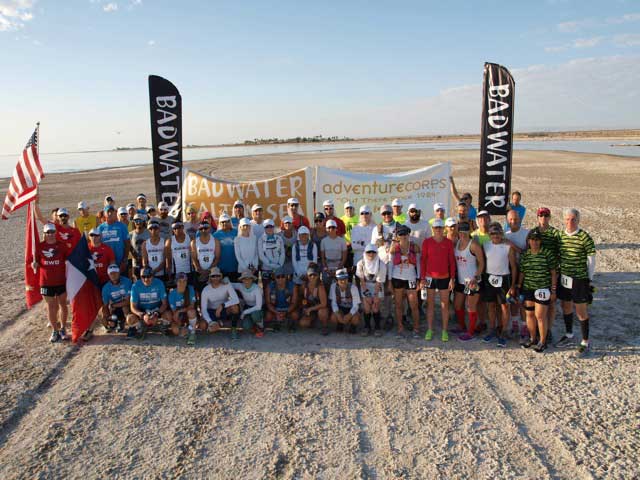 Photo courtesy of Mj Media
FOLLOWING THE RACE
Race Webcast (including live GPS tracking of all racers):
http://www.badwater.com/2016-badwater-salton-sea-webcast/
Official Hashtag: #‎BadwaterSS
Twitter: @Badwater
Instagram: @ChrisKostman and @Badwater HQ
Time Splits:
http://dbase.adventurecorps.com/resultsSaltonSea.php?ss_eid=80&ss=Go
Race Roster:
http://dbase.adventurecorps.com/roster.php?bw_eid=78&ss_eid=80&ss=Go&cf_eid=79
Live webcam at the finish line (app 900pm Sunday night to 1030am Monday morning):
http://www.ustream.tv/channel/badwater
RACE MAGAZINE
Download the Spring 2016 issue of BADWATER Magazine, a full-color, 48-page issue in PDF format featuring both Badwater Salton Sea and Badwater Cape Fear, along with their incredible settings, at this link:
http://www.adventurecorps.com/downloads/bw/2016May.pdf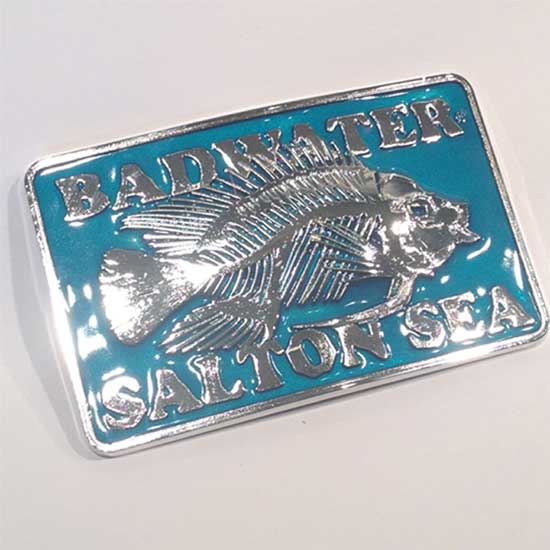 Photo courtesy of Mj Media
BADWATER ULTRA CUP
This race is the second leg in the three-event race series known as the Badwater Ultra Cup which includes Badwater Cape Fear in March, Badwater Salton Sea in May, and the STYR Labs Badwater 135 in July. This year, 17 remarkable athletes are attempting the Badwater Ultra Cup:
Amy Costa, 51, of Jacksonville, FL
Dale Cougot, 50, of Garland, TX
Kayla Delk, 29, of Greeneville, TN
Kevin Delk, 33, of Greenevill, TN (Married to Kayla; they are running all three races together)
Luigi Dessy, 38, of Ponce, Puerto Rico
Dean Dobberteen, 40, of Bonita, CA
Jared Fetterolf, 27, of Austin, TX
Gina Fiorini, 38, of Lakewood, CO
William Gane, 40, of Chicago, IL
Carl Hineline, 41, of Plano, TX
Mark Matyazic, 51, of Irvine, CA
Grant Maughan, 51, of Dudley, NSW, Australia
Phil Nimmo, 52, of Mansfield, TX
Keith Straw of Malvern, 61, of Malvern, PA
Antonette "Rosie" Prather, 46, of Garner, NC
Sandra Villines, 43, of San Jose, CA
Cheryl Zwarkowski, 57, of Victorville, CA
Official BADWATER merchandise is available via
www.badwater.biz