FEATURE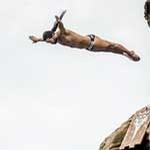 Purest and most unspoiled location of this Cliff Diving season - Azores, Portugal
By Quattro Media
With three new podium finishers the 2015 Red Bull Cliff Diving World Series enters a decisive phase
Mexico's Jonathan Paredes and Andy Jones, from the United States, cause a stir in the World Series as they dive into the top-three in the season's purest stop on a volcanic islet in the Azores archipelago, behind the ever-dominant Gary Hunt, from England. In what was the year's closest result from almost three times the Olympic height, the athletes returned to the sport's roots and leapt directly off the cliff to hit the water three seconds later with their bare feet at speeds of 85kph. On July 18, a passionate Portuguese crowd witnessed a wildcard winner in the second of three Women's World Series competitions of 2015, as American Cesilie Carlton finished just ahead of Mexico's Adriana Jimenez and the USA's Ginger Huber.
After the competition's Seeding Round off the 'Snakehead' rock on Friday, the 31-year-old 'Brilliant Brit' was positioned only 12th but recovered to rack up a haul of 471.80 points to win for the fifth time in a row. And although the English winning streak continued, Mexico's rising star Jonathan Paredes (450.90pts) – the youngest athlete in the World Series at 25 years of age – pushed the champion closer than anyone else has done so far this season, achieving 10s from the judges for two of his dives. For the first time in his World Series career, and in his 16th World Series competition, America's Andy Jones (412.90pts) finished on the podium after four rounds of cliff diving – two from the rocks and two from the platform.
In the overall standings, Gary Hunt leapt to a total of 1,000 points, with Colombia's Orlando Duque, who missed the final after losing his head-to-head duel with Jones, and former Olympian Blake Aldridge, from England, tied in second (590pts). With three more competitions to come, Jonathan Paredes (449pts) and David Colturi (430pts), from the USA, complete the top five.
The Islet of Vila Franca do Campo also hosted the second Women's World Series event, with wildcard Cesilie Carlton taking first place. It was the American's first World Series win, with her points total of 224.30 seeing the Texan home in front of Jimenez (222.80pts) and Huber (207.25pts), and five other female competitors. Carlton's win meant a break in the reigning champion's winning streak as fellow American Rachelle Simpson could only finish 4th. These two ladies are now joint leaders in the overall standings (290pts) ahead of Ginger Leigh Huber (260pts) in third. The Women's World Series will be decided in Polignano a Mare, Italy, on September 13.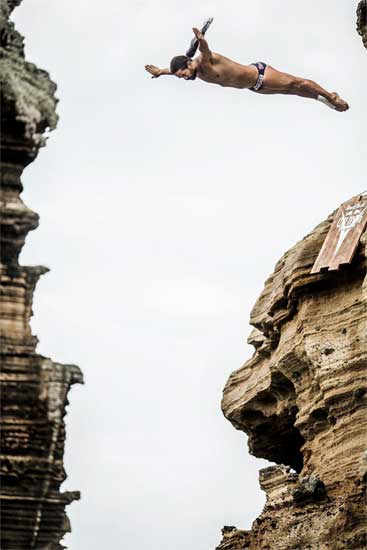 Photo courtesy of Quattro Media
From unspoilt diving action on the circular-shaped venue offshore from the island of São Miguel, the World Series travels to new ground in Mostar, Bosnia & Herzegovina, for the next competition on August 15.
QUOTES FROM THE WINNERS
Gary Hunt (UK)
I definitely put pressure on myself with a shaky start yesterday. I just knew that it was so important for my morale to do a good first dive off the rocks today. It just lifted my spirits and confidence to keep going. Last year was tough in the Azores, and it's difficult to have it in your mind that 'yeah, you're great off the platform, but you can't do it off the rocks', so it feels great to prove to myself that I can do it. There's more pressure on me now for the sixth stop, as who knows this could be a perfect season and that would be incredible!
Cesilie Carlton (USA)
I'm super-excited! Everything was great about this event. Diving off a rock for the first time in competition is amazing, everything around here is beautiful. I was a little nervous at the beginning, but once you take off in the air it feels like a usual dive. It's been a great event, so natural, and it's been a lot of fun.
RESULTS STOP 5, AZORES
MEN
1. Gary Hunt | UK | 471.80pts.
2. Jonathan Paredes | MEX | 450.90
3. Andy Jones | USA | 412.90
4. Silchenko Artem | RUS | 402.10
5. Kyle Mitrione (wildcard) | USA | 401.80
6. Blake Aldridge | UK | 400.90
7. Anatoliy Shabotenko (wildcard) | UKR | 381.10
8. Sergio Guzman (wildcard) | MEX | 360.85
9. Orlando Duque | COL | 287.70
10. David Colturi | USA | 279.00
11. Michal Navratil | CZE | 275.05
12. Jucelino Junior | BRA | 271.60
13. Miguel Garcia (wildcard) | COL | 263.40
14. Steven LoBue | USA | 134.90
WOMEN
1. Cesilie Carlton (wildcard) | USA | 224.30pts.
2. Adriana Jimenez | MEX | 222.80
3. Ginger Leigh Huber | USA | 207.25
4. Anna Bader | GER | 205.50
5. Rachelle Simpson | USA | 201.20
6. Yana Nestsiarava (wildcard) | BLR | 193.20
7. Lysanne Richard (wildcard) | CAN | 189.70
8. Tara Hyer Tira (wildcard) | USA | 182.95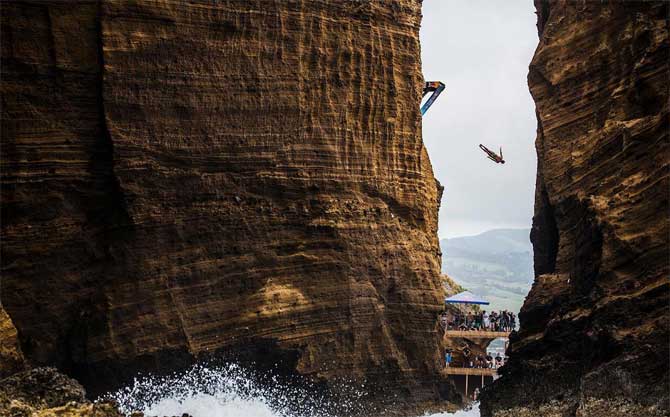 Photo courtesy of Quattro Media
Red Bull Cliff Diving World Series 2015
Gravity-defying freefall punctuated by awe-inducing tricks – that is cliff diving. The sport's best athletes leap aesthetically from almost three times the Olympic height with no protection at all, except their concentration, skill and physical control. In less than three seconds, gravity propels the divers' bodies as they fall the equivalent of eight stories, reaching speeds in excess of 85kph.
Since 2009, the Red Bull Cliff Diving World Series has provided a platform for breathtaking action and dives of incredible complexity, spotlighting the sport's top athletes as well as young talent and in 2014 it introduced a Women's World Series. In its seventh season, this rapidly-evolving sport will crown new champions during eight demanding competitions for the men and three stops for the women. Between April and September, this pure extreme sport will touch waters in natural and urban surroundings as well as remote and iconic venues across South America, the US and Europe and top it all with the season finale and the 50th World Series competition.
LifeProof® is the official World Series partner to protect competitors' smartphones to ensure they can focus on competing, safe in the knowledge that their device is protected from dirt, dust, rocks and crucially, water!