MOUNTAIN RUNNING
Mother Nature plays her part in 14th annual Routeburn Classic Adventure Run
By Southern PR
Mother Nature may have temporarily dashed the spirts of organisers of the 14
th
annual Routeburn Classic Adventure Run on Saturday, but not for long.
Heavy rain and the threat of snow to low levels forced postponement of the exclusive adventure run on New Zealand's world famous Routeburn Track on Saturday.
However some of the country's top male and female endurance racers – as well as keen amateur runners – were back to 'knock it off' the following day (Sunday April 24 2016).
It was the first time in the event's history that the race had been postponed, but organiser Evan McWhirter was adamant he'd made the right call.
"After widespread consultation with all the relevant parties they all advised against running the event on Saturday and the call was made based on the fact that safety is paramount," he said.
"With the amount of rain we were getting and the threat of snow down to 1,000m, it was the right call. It's all good running an event in this environment when everything goes right, but the second we're looking at heavy snow that can be the end of it.
"On Sunday one of the better athletes in the field was in second spot until she injured her ankle and came in close to last. With up to eight hours on the track, injuries can happen even to a top runner and we don't want to be dealing with deep snow and miserable weather on top of that."
With 335 athletes in the original line-up, the number reduced to 235 for the following day, largely due to the inability of many athletes to re-book flights already booked for Sunday with no alternatives.
However that didn't deter the ultra-keen, some of whom got up at 4am on Sunday morning in Queenstown to trek to the 8am start line near Milford Sound.
Welshman Hywel Dinnick, now living full-time in Queenstown, returned to defend the title he won last year with the goal of breaking the Routeburn Classic record. That he did, taking top honours in an impressive time of 2 hrs 43mins 47sec, taking 42 seconds off the record of 2:44:29 set by international multisporter Braden Currie in 2012.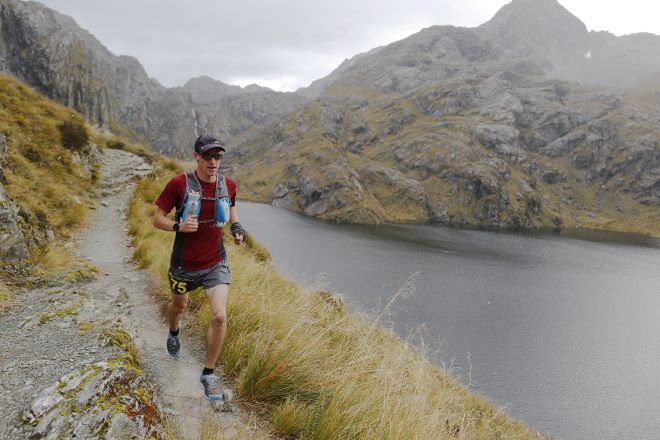 Routeburn Classic 2016 winner male Hywel Dinnick. Credit: Photos4sale.co.nz
Twenty-six year-old Dinnick, an ultra-marathon runner, said it "felt great" to have won the race and nailed the record.
"Everything seemed to go well on the day and I took the lead early on which felt pretty good. I've been able to train on the track a number of times so I have good knowledge of the track which is an advantage.
"I ran the race quite conservatively early on, and saved my legs for the last bit, although I did enjoy the climbs.
"I'd like to thank race organiser Evan who had a stressful couple of days, but I give him a lot of credit for delivering on a very difficult weekend."
Top female athlete in a time of 3:42:38 was Dunedin radiographer Olivia Clearwater, 22, who even surprised herself with her win.
"I haven't really done that much running," she said. "I used to run at high school and recently completed to Papatowai Challenge, but the furthest I've run is a half marathon.
"I've done a lot of tramping and I used to swim but took up running in the last two or three years to keep fit.
"I loved the event even though I did find some of the hills a bit technical!"
Third man home was Te Anau policeman Dwight Grieve, competing for the third time and improving his previous best time by a whopping 25 minutes, putting him in the 'Under three hours' Unicorns category.
"I'm a very happy man; I absolutely love that race," said 38-year-old Grieve. "I've taken up with coach Sean Cantwell in Te Anau and started doing some 'real' training, running on track and field, so I'm over the moon to be in amongst the real runners and come in third.
"I was well over 30 when I started running and went straight to ultras, but then decided to go fast before I got to 40. This year everything fell into place."
Grieve certainly likes to mix it up – he is the current New Zealand Beer Mile record holder ("I've got a great ability to drink and run") and recently won his age group in 5,000m at the NZ Masters Athletics Champs.
Dunedin's Grant Guise, who has finished second two years in a row in the hotly-contested mens' category, was looking comfortable in third place until he made a 'rookie' mistake that cost him his place, taking a wrong turn off the main track and detouring down a scenic trail. He crossed the line in fourth spot.
As always, the Routeburn Classic was as much about its much-talked-about annual theme as it was about the racing.
This year's theme 'Unleash your endorphins' gave race director McWhirter full licence to interpret as he saw fit, including putting a fly swat with hands on them in everyone's race pack.
"I encouraged everyone to 'endorphin-whip' themselves on the butt as they raced or slap a fellow competitor on the butt to get them moving along. This backfired on me hugely as I lost track of the number of times I was whipped in the main street of Te Anau," he said.
Queenstown dance choreographer Anna Stuart interpreted the endorphins brief to create a dance involving cross-dressing cowgirls wearing Kate Middleton face masks and a bunch of wild horsemen which debuted (with much amusement) at the pre-race briefing the night before the event.
Once on the track, Mother Nature finally smiled on competitors.
"The track was in awesome condition, just a sprinkling of snow falling gently up the top. So many competitors commented on how beautiful it was," said McWhirter.
"In the end although I was saddened that some did not get to compete, everyone supported the decision we made to postpone. I didn't hear one person complain; we have to respect the mountains and all the athletes were completely understanding and feeling for me. I was quite blown away and humbled by how kind people were."
Meanwhile the event's youngest-ever competitor, Josh Platt from Wellington was back for more as a 13-year-old, once again running with his family. He finished in 4:33:26 and his Mum Carlene Stains was pleased to beat him to the finish line in a time of 4:16:48.
Also of note was Korina Somerville who won the Master's women's event in a time of 4:18:05, becoming the first woman to join the prestige Decade Club. She receives the Mark Douglas Perseverance Trophy.
Main results were:
Mens:
1st Hywel Dinnick (Queenstown) 2:43:47; 2nd Jason Hall 2:57:47; 3rd Dwight Grieve (Te Anau) 2:59:30
Womens:
1st Olivia Clearwater (Dunedin) 3:42:38; 2nd Natalie Jakobs 3:43:45; 3rd Lydia McLean 3:44:36