CYCLING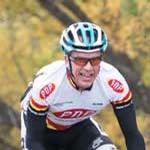 Rowlands masters the Masters at club road cycling nationals
By Sports Media NZ
Well-known Wellington masters' cyclist David Rowlands was the stand-out in today's penultimate day of action at the Cycling New Zealand Club Road Nationals in Alexandra today
.
Rowlands, from the Port Nicholson-Poneke club, was the fastest of all Masters riders who contested the 100km distance in today's racing. He took out the 40-44 years division in impressive fashion to add to his victory in the time trial earlier in the week.
His time of 2:33.42 was faster than the 35-39 years and 40-44 years age groups who also raced over five laps of the demanding course that took in the airport hill, although he did ride in the calmer morning conditions.
Rowlands went clear with former Olympian Brendon Vesty from the Ramblers club of Hawkes Bay and got the better of final climb to win by just three seconds.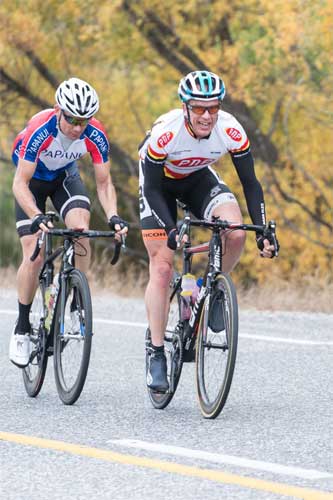 David Rowlands from Port Nicholson Poneke (while jersey) in action at the New Zealand club road cycling championships in Alexandra. Photo © Eugene Bonthuys
Rowlands was one of four riders who backed up today after also winning the Time Trial on Thursday. The others comprised Waikato's Jim McMurray and the Otago pair of Anthony Chapman and Ross Gamble.
Chapman was in a group of six who made a break before joining Brett Grieve from the NZ Army team who gained over a minute on the field. The pair fought it out on the final climb with Chapman prevailing to win in 2:38.21.
McMurray bided his time before pushing clear on the fourth of five laps and went clear to win the 55-59 years division over 80kms from Jeff Newmann and former Ironman world champion Scott Molina. It follows a remarkable run for McMurray who broke the world record for the hour in his age group on the track last month and won the time trial on Thursday.
Age was no barrier for Ross Gamble from Otago who enjoyed his second win of the week after a tight battle with Wanganui's Allan Luff in the men's 70 years plus division, prevailing in the sprint finish.
One of the best races came in the men's 45-49 years division where time trial winner Reon Park (Timaru) and Glen Carabine (Tauranga) went clear from the start of the 100km race, gaining a 40 second gap after just one lap. They extended that margin to 1min 30sec after three laps but Carbine was the stronger in the battle up the final climb to win by just two seconds from Park.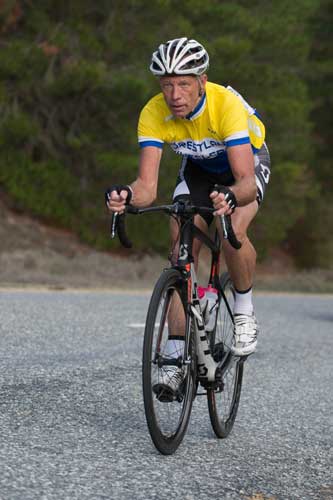 Jim McMurray from Forestland Wheelers (yellow jersey) in action at the New Zealand club road cycling championships in Alexandra. Photo © Eugene Bonthuys
Tomorrow's final day includes road races for the under-19, under-23 and senior men and women.
Results, Masters Men:
M1 (35-39yrs, 100km): Anthony Chapman (Otago) 2:38.21, 1; Brett Grieve (NZ Army) at 25s, 2; Yancy Arrington (Canterbury TT) at 57s, 3.
M2 (40-44 yrs, 100km): David Rowlands (Port Nicholson Poneke) 2:33.42, 1; Brendon Vesty (Ramblers) at 3s, 2; Blair Martin (Otago) at 13s, 3.
M3 (45-49yrs, 100km) Glen Carabine (Tauranga) 2:38.18, 1; Reon Park (Timaru) at 1s, 2; Stephen Stannard (Manawatu) at 1:08, 3.
M4 (50-54 yrs, 80km): Geoff Keogh (Otago) 2:14.11, 1; Phil Scott (Pegasus) at 1s, 2; Blair Stuthridge (Pegasus) at 34s, 3.
M5 (55-59yrs, 80km): Jim McMurray (Forestland Wheelers) 2:12.28, 1; Jeff Newmann (Pegasus) at 53s, 2; Scott Molina (Papanui) at 1:02, 3.
M6 (60-64 yrs, 80km): Bruce Jones (Southland) 2:21.13, 1; John Hogg (Central Otago Wakatipu) same time, 2; Neil Blayney (Counties Manukau) st, 3.
M7 (65-69yrs) 60km: Dennis Parker (Pegasus) 1:49.35, 1; Gary Ferguson (Pegasus) at 13s, 2; Garry Overend (Tasman Wheelers) at 34s, 3.
M8 (70 plus, 60km): Ross Gamble (Otago) 1:59.11, 1; Allan Luff (Wanganui CC) at 5s, 2; Willem Stein (Tasman Wheelers) at 17s, 3.
Details:
www.cyclingnewzealand.nz
or
www.dynamoevents.co.nz