FEATURE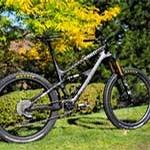 Acclaimed Spot Rollik MTB frame reinforced by TeXtreme
By TeXtreme Technology
Colorado-based US bicycle company Spot Brand has announced the release of the new Spot Rollik – a lightweight MTB frame reinforced with TeXtreme® carbon fiber fabrics – at the 2016 Subaru Sea Otter Classic cycling event in Monterey, California.
TeXtreme® represents the next generation in state-of-the-art carbon fiber material and it is now being adopted by the bicycle industry. Based on using Spread Tows instead of yarns, it's used to create ultra-lightweight, high-performance products. Companies utilizing TeXtreme® Technology achieve significant results in minimizing weight while increasing stiffness and strength, in comparison to other carbon fiber materials.
"Utilizing TeXtreme® carbon fiber fabrics has enabled us to manufacture a lighter frame that still has the high level of performance required. For us to achieve the desired strength-to-weight ratio, TeXtreme® technology was the obvious choice," says Andrew Lumpkin, CEO of Spot Brand LLC.
The Spot Rollik has been featured on Bicycling Magazine's website as one of the best new mountain bikes of 2016. Spot Brand is a family-owned company located in the Colorado Rockies with a history of innovation and an unwavering commitment to top-level engineering and design. The company offers 16 models and counting across all major bicycle categories: mountain; street; cyclocross; road; geared; singlespeed; and full-suspension.
Photo courtesy of TeXtreme Technology
"We are happy to have been able to support Spot Brand in achieving their goals for this new frame. Making use of our novel TeXtreme® materials, our knowledge on how to develop the optimal lay-up, and working together with their manufacturer all contributed to the success. This is yet further proof that we can help bike companies to engineer lighter, stiffer and more durable composite products," says Andreas Martsman, VP of Marketing & Sales at Oxeon – the makers of TeXtreme®.
In addition to the bicycle industry, the current use of TeXtreme® is prevalent in Formula 1, America's Cup, NASCAR and Le Mans racing; in the manufacture of golf clubs, surfboards, tennis racquets, table tennis blades, rowing shells, skis, snowboards and ice hockey sticks; and in various industrial and advanced aerospace applications
For more information, please visit
www.textreme.com