TRIATHLON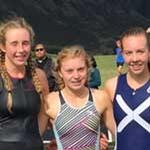 Hoy And Badham Take Out U19 Schools Tri Titles
It was a windy and threatening start to the day for the Calder Stewart National Schools Triathlon Championships at Jack's Point in Queenstown, with the storm front moving up the South Island bringing dark cloud but thankfully no rain eventuated throughout a competitive and exciting days racing with over 800 entrants across the two days of competition (Open Water Swim and Aqauthlon champs tomorrow at Lake Hayes).
The blue riband U19 titles went to Dan Hoy (Westlake Boys High) and Katherine Badham (Takapuna Grammar), with Hoy racing just a week after he made his debut at ITU World Cup level in New Plymouth and Badham backing up from the recent Oceania Championships in Gisborne.
A member of the Tri NZ National Talent Squad, Nathan Richmond coached Hoy was never in doubt that he would race and aim up for the national title at Jack's Point though.
"You are only at school for a limited time and you have to take these opportunities, to win a national title means a lot to me and to my school, so I am pleased to win that today on a testing course. The water was much colder than I have been used to and the bike was on those rough South Island roads which again made it interesting. I loved the run with the trail aspect to it though and am pleased to have come out first in a really competitive race."
Hoy won from David Martin (Palmerston North Boys High) and Bradley Cullen (Hamilton Boys High), with conditions at their best as temperatures headed close to the 20 degree mark and the winds of the morning died away.
In the girls it was a thriller, with National Talent Squad athlete Badham only edging clear on the run as a group of five girls exited the bike ride within 5 seconds, with eventual silver medalist Ari Graham (St Andrews), bronze medalist Eva Goodisson (Woodford House), Rose Dillon (St Peter's Cambridge) and Olivia Thornbury (Verdon College) all in close contention.
Brent Foster coached Badham was thrilled to earn her first National Schools title in a quality race.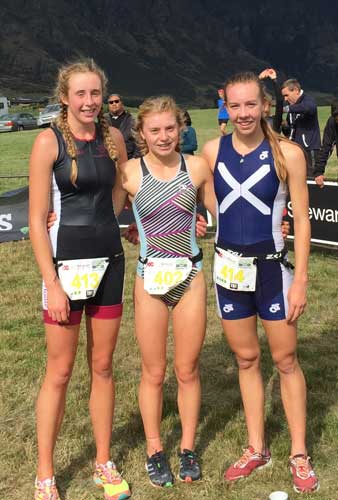 Photo courtesy of Tri NZ
"I found out a few weeks ago that I will go to Penrith to race in a few weeks so I really have trained through for this one, but this is my first National Schools title and it means so much coming in my final year. The water was really cold, the bike I loved and I don't think I have ever had a run like that, it was just amazing."
The U12 and U13 age groups were first away and had to contend with the toughest of the conditions, ableit on a very safe and well marshalled course in and around the Jack's Point village, with a 150m swim, 8km bike and 1,7km run. And with the water temperature a cool 16.5 degrees, the athletes were keen to get the swim done as quickly as possible!
Sam Idiens (Medbury School) won the U12 boys, Sophie Spencer (St Kentigern College) the U12 girls, William Taylor (Christchurch Boys High) the U13 boys and Sacha McLeod () the U13 girls.
Will Taylor had to bide his time to win his first national title, only taking the lead late in the race.
"I only went past Fergus at the top of the hill on the run and then just went for it to the finish line. The course was great, the swim was a bit cold but otherwise it was a great course and a good race," said a delighted Taylor.
The U14 girls proved one of the closest races of the day, with Case Mastny-Jensen (Tauhara College) running strongly from third place off the bike to take the win, crossing the line just 13 seconds in front of Natalya Carter (Baradene) with a further ten seconds back to Olivia Kikstra (Christchurch Girls' High).
By contrast Laurence Pithie (Christchurch Boys High) made no race of the U14 boys, winning by over a minute from Callum Hockey (Rangitoto College), with William Leong (Palmerston North Boys) coming home for the bronze medal.
Dylan McCullough is a regular on the triathlon scene, competing in the National Junior Series throughout the summer and he dominated the U16 race today, the St Kentigern College Student almost a minute clear of Josiah Ney (Gisborne Boys High), with the bronze going to Zach Taylor (Christchurch Boys High).
In the U16 girls race it was the tall striding figure of Amelia Persson (Christchurch Girls High) who proved strongest on the day, taking the title from Hannah Knighton (Waikato Diocesan) and Phoebe Young.
Event Director Sally Hayes from the Southland Triathlon and Multisport Club reflected on a great first day of action.
"Congratulations to everyone today for taking part and racing so superbly, from those winning medals to those here for the experience and the atmosphere that only a school event can provide. We have enjoyed a largely incident free day on a great course thanks to the hospitality and support of the Jack's Point community and the Queenstown Lakes District Council. Our team of volunteers and marshals delivered a great and safe event. It is thanks to the support of Calder Stewart, the Southland Triathlon and Multisport Club and Triathlon New Zealand."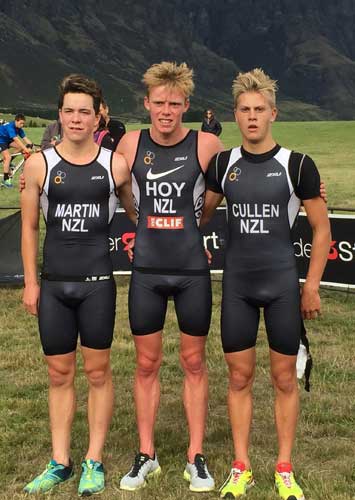 Photo courtesy of Tri NZ
The Calder Stewart sponsored event is also made possible thanks to funding from the Community Trust of Southland and The Southern Trust, with support also forthcoming from .kiwi (dot Kiwi) and SAS Sport.
The Open Water Swim and Aquathlon Championships take place at Lake Hayes tomorrow (Friday).
Results – Top Ten per category, full results CLICK HERE

Under 12 Boys
1. Sam Idiens 00:30:13 Medbury School
2. Mathew Jamieson 00:31:56 Huntley School
3. Matthew Ney 00:33:06 Gisborne Intermediate School
4. Hunter Gibson 00:34:01 Male 4 Wanganui Intermediate School
5. Trevor Coetzee 00:34:20 Whangarei Intermediate School
6. Sam Davis 00:34:21 Arrowtown
7. Charles Lord 00:34:22 Medbury School
8. Fred McVerry 00:34:40 Huntley School
9. Ronan Shearing 00:34:50 James Hargest College Junior Campus
10. Luke Hair 00:34:58 Saint Kentigern Boys' School
Under 12 Girls
1. Sophie Spencer 00:31:08 Saint Kentigern College
2. Aana Watts 00:33:40 Hilltop School
3. Emma Faherty 00:33:55 James Hargest College Junior Campus
4. Sophie Howell 00:34:31 Hilltop School
5. Abby Ross 00:35:11 Duntroon School
6. Margy Hazelhurst 00:35:24 St George's School
7. Rebecca Hurley 00:35:40 Cobham Intermediate School
8. Riley Ballantyne 00:36:12 Winton Primary School
9. Gemma Carter 00:36:42 Baradene College of the Sacred Heart
10. Kayla Limbrick 00:36:57 Hilltop School
Under 13 Boys
1. William Taylor 00:28:08 Christchurch Boys' High School
2. Fergus Greer 00:28:20 Malborough Boys College
3. Oliver Larcombe 00:28:35 Kaharoa School
4. Alex Brackenbury 00:28:43 Hilltop School
5. Zane Powell 00:28:56 Somerville Intermediate School
6. Ethan Mclachlan 00:29:06 Rangiora High School
7. Ivan Abele 00:29:13 Hilltop School
8. Leo Staufenberg 00:30:06 Mt Aspiring College
9. Charlie Tattersfield 00:30:25 Gisborne Intermediate School
10. Michiel Van Heyningen 00:30:31 Medbury School
Under 13 Girls
1. Sacha McLeod 00:29:55
2. Georgia Hair 00:30:54 Diocesan School for Girls Auckland
3. Prudence Fowler 00:31:03 Mount Albert Grammar School
4. Tori Bendall 00:31:07 Pahiatua School
5. Charlotte Spurway 00:31:37
6. Aimee Blackmore 00:32:14 Baradene College of the Sacred Heart
7. Emma Hannan 00:32:14 Saint Kentigern College
8. Pixie Cockerill 00:32:21 Cashmere Primary School
9. Rosa Blake 00:33:12 Heaton Intermediate
10. Emily Heath 00:34:05 Mt Aspiring College
Under 14 Boys
1. Laurence Pithie 00:36:27, Christchurch Boys High
2. Callum Hockey 00:37:39, Rangitoto College
3. William Leong 00:38:03, Palmerston North Boys High
4. Reece Rush 00:38:17, Lincoln High School
5. Boston Bright 00:38:22, Scots College
6. Andrew Matthews 00:38:24, Sacred Heart College
7. Caleb Ney 00:38:33, Gisborne Boys High
8. Sebastian Fergusson 00:39:05, Christs College
9. Sam Yorston 00:39:25, Wanganui Collegiate
10. Jakob Larsen 00:39:29, Taupo Nui-a-Tia College
Under 14 Girls
1. Case Mastny-Jensen 00:38:54, Tauhara College
2. Natalya Carter 00:39:07, Baradene College
3. Olivia Kikstra 00:39:17, Christchurch Girls High
4. Noya Oporto 00:40:47, Westlake Girls High
5. Christina Leong 00:41:21, Palmerston North Girls High
6. Brea Roderick 00:41:43, Mount Hutt College
7. Lucy Farrell 00:42:01, Waikato Diocesan
8. Molly Newton Smith 00:42:21, Queen Margaret College
9. Libby Abbott 00:42:34, Wanganui Collegiate
10. Emma Osborne 00:43:10, Wanganui Collegiate
Under 16 Boys
1. Dylan McCullough 00:45:46 Saint Kentigern College
2. Josiah Ney 00:46:42 Gisborne Boys' High School
3. Zachary Taylor 00:46:57 Christchurch Boys' High School
4. Reuben Thompson 00:48:14 Wakatipu High School
5. Sam Thornbury 00:48:22 Verdon College
6. Lachlan Haycock 00:48:27 Tauranga Boys' College
7. Fergus Hamilton 00:48:41 Tauranga Boys' College
8. Julius Staufenberg 00:48:46 Mt Aspiring College
9. Adam Martin 00:48:47 Palmerston North Boys' High School
10. Flynn Sinclair 00:48:49 Southland Boys' High School
Under 16 Girls
1. Amelia Persson 00:51:09 Christchurch Girls' High School
2. Hannah Knighton 00:51:54 Waikato Diocesan School for Girls
3. Phoebe Young 00:53:06 Mt Aspiring College
4. Katie White 00:55:15 Waikato Diocesan School for Girls
5. Mia Gemmell 00:55:39 Wanganui Collegiate School
6. Mya Graham 00:55:51 St Andrews Secondary School
7. Maddy Clarke 00:56:25 Saint Kentigern College
8. Emily Irvine 00:56:46 Waikato Diocesan School for Girls
9. Charlotte Carter 00:57:31 Baradene College of the Sacred Heart
10. Annabelle Waterworth 00:57:41 Saint Kentigern College
Under 19 Boys
1. Dan Hoy 01:01:37 Westlake Boys High School
2. David Martin 01:03:15 Palmerston North Boys' High School
3. Bradley Cullen 01:03:39 Hamilton Boys' High School
4. Janus Staufenberg 01:03:55 Mt Aspiring College
5. Henry Gautrey 01:04:07 Hutt International Boys' School
6. James Matthews 01:05:06 Sacred Heart College
7. Harley Porter 01:05:23 Burnside High School
8. Josh Taylor 01:05:40 James Hargest College Senior Campus
9. Daniel Whitburn 01:05:49 Saint Kentigern College
10. Henry Idiens 01:05:56 Christ's College
Under 19 Girls
1. Katherine Badham 01:18:18 Takapuna Grammar School
2. Ari Graham 01:18:47 St Andrews Secondary School
3. Eva Goodisson 01:19:21 Woodford House
4. Rose Dillon 01:19:50 St Peter's School (Cambridge)
5. Olivia Thornbury 01:20:22 Verdon College
6. Bayley-Rose Van de Coolwijk 01:23:23 St Mary's College (Wellington)
7. Katie Lush 01:25:11 Hamilton Girls' High School
8. Emma Smith 01:25:30 Villa Maria College
9. Sophie Bright 01:28:49 Wellington Girls' College
10. Jacey Cropp 01:31:23 Rangitoto College