TRACK CYCLING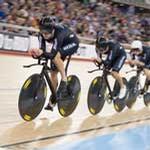 Double Olympic medallist retires from track cycling
By Sports Media NZ
New Zealand's most experienced track cyclist, Marc Ryan, has today announced his retirement from the sport.
The 33-year-old from Timaru believes the time is right, with complete confidence in the depth of talent among the group of young riders he thinks are best equipped to for the Rio Olympics.
Ryan has been a fixture in the men's team pursuit squad for 14 years, spanning three Olympic Games where he has won bronze medals at Beijing in 2008 and London in 2012.
He has won four world championship medals in team pursuit, with bronze medals at Poland in 2009, Melbourne 2012 and Cali in 2014 before the gold medal and rainbow jersey at Paris last year.
"It's been a big decision but I feel like it's time. I've actually tried to retire twice before after London and then after the Commonwealth Games in Glasgow but I was enticed back both as a rider and to mentor the younger guys.
"Rio is just around the corner but I couldn't go through another campaign and miss out on the final team. Worse still, I could not bear doing the work and going to Rio but letting these young guys down."
Ryan said the nature of team pursuit has changed significantly in recent years and no longer suits him.
"I'm an old fashioned team pursuiter who likes to do a lot of road racing to get my fitness for the track. But team pursuit is now a real power-based sport with a lot more work needed in the gym. That's not me.
"Mostly though I have full belief what this group are capable of. The have got depth, they are fast and they've got a lot of horsepower."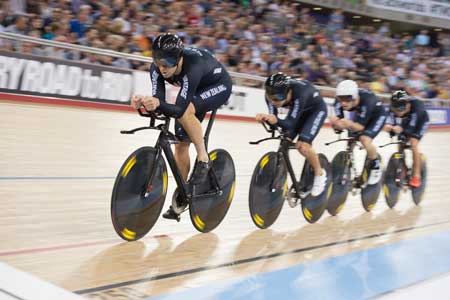 Marc Ryan leads the team pursuit at the recent UCI Track Cycling World Championships in London. Photo © Guy Swarbrick
Cycling New Zealand head coach Dayle Cheatley said he respected Ryan's decision and understood his timing.
"Marc has been a fantastic member of the New Zealand track cycling team for many years and his presence will be missed as we prepare for Rio," Cheatley said.
"Marc's passion and commitment to track cycling cannot be faulted. He has been a big contributor to the legacy of team pursuiting and I take my hat off to him. He leaves behind a young group of outstanding talent that he has helped mentor to the stage where he can hand over the mantle.
"It's been a privilege to have seen his career evolve and work closely with him in more recent years. I will never forget the handshake and look he gave me when he pulled the rainbow jersey on for the first time."
Cheatley said he hopes that Ryan will not be lost to the sport, and will be working closely with him to transition into coaching.
"His knowledge of this sport would be a huge asset for young developing cyclists in this country and we will help map a pathway for him to inspire the next generation of team pursuiters."
Ryan said the idea of transitioning into a formal coaching career is something that excites him, although he looks forward to some time out to refresh and reflect on his career on the track.
Details:
www.cyclingnewzealand.nz