TRIATHLON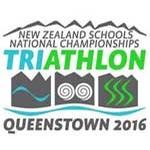 Queenstown To Host Massive NZ Schools Triathlon Championships
By Tri NZ
The Calder Stewart New Zealand Schools National Triathlon Championships will once again descend upon what must surely rate as one of the most stunning locations anywhere in the world when the best young talent from around the country races at Jack's Point and Lake Hayes in Queenstown this week.
Racing is set to be hosted by the renowned Golf Course Resort on Thursday (triathlon) and at Lake Hayes (open water swim and aquathlon) on Friday this week, under the organization of the Southland Triathlon and Multisport Club, and numbers reflect the growing interest in the sport at Schools level.
In all a total of 794 entries have been received from all around the country, with that number expected to exceed 800 with late registrations.
Racing includes the triathlon events, open water swim and aquathlon (swim/run) competitions, all featuring national titles and medals for the variety of school age groups and teams.
Sally Hayes of the Southland Triathlon and Multisport Club is looking forward to a great celebration of events this week, at a superb venue that last hosted the National Schools Champs in 2011.
"We are thrilled with the response this week, with registrations reflecting the continued growth of triathlon and multi-sport events amongst the schools. But we also see the commitment from schools from around the country as an endorsement of what we know will again be a stunning location, providing a safe and tailor made venue for triathlon at Jack's Point and the open water swim and aquathlon competitions at Lake Hayes.
"Everyone involved in the event is looking forward to hosting a great few days of competition in one of the more amazing places in the world to race – or indeed for families and supporters to enjoy from the sidelines as well."
The event brings key partners together including Triathlon New Zealand, the New Zealand Secondary Schools Sports Council, Jack's Point, Queenstown Lakes District Council and Sport Southland in a collaborative effort for what is increasingly one of the blue-riband events on the school sports calendar.
The Calder Stewart sponsored event is also made possible thanks to funding from the Community Trust of Southland and The Southern Trust, with support also forthcoming from .kiwi (dot Kiwi) and SAS Sport.
The event commences on Wednesday with registration and course familiarization, with racing starting on Thursday with all triathlon events at Jack's Point and continuing on Friday at Lake Hayes with the open water swimming and aquathlon championships in all age groups.
CLICK HERE
for further information and event schedule
CLICK HERE
for results during the week
Recent history of New Zealand Schools National Triathlon Championships:
2010: Karapiro, Waipa District
2011: Jack's Point, Queenstown
2012: Karapiro, Waipa District
2013: Pegasus, Christchurch
2014: Gisborne, East Coast
2015: Taupo, Central North Island
2016: Jack's Point/Lake Hayes, Queenstown