FEATURE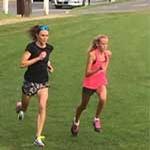 Triathlon Gives Back To The Community As Athletes Visit Schools
By Tri NZ
Some of the world's best triathletes are in town to compete in Sunday's Quality Hotel Plymouth International ITU New Plymouth World Cup, but they have also taken the time to spread the fitness message to school children throughout the region.
Event organisers coordinated a programme that saw athletes visit local schools and spend some time with the Taranaki Toa group as they prepare for their inaugural Mounga Tri Series in April (first event April 2 at Waitara).
Event Director Terry Sheldrake says giving back to the community is a huge and important value in bringing the event to Taranaki, and was done with the support in particular of TSB Community Trust, but is in keeping with the values of the event and other supporters such as Venture Taranaki, Port Taranaki and the naming rights partner Quality Hotel Plymouth International.
"We do things a little differently here in New Zealand compared to most of the rest of the world. Having this event in New Plymouth is huge for the region, it is sitting alongside a select few events from around the world that get to host ITU World Cup races.
"Unlike some other events which are perhaps in bigger cities and are all about race day, we are conscious that we must leave a legacy each year and an imprint on the children and our communities. Through the wonderful work with the athletes and the school visits we are able to do just that and hopefully inspire the children and teachers into healthier lifestyles and a positive attitude towards fitness and being healthy and active.
"This event will be seen around the world through race day coverage, but some of the best work we can do is in the community in the lead up to race day and it is thanks to athletes and coaches that we achieve this. Imagine having two time world champion Gwen Jorgensen visiting and then training with her the very next day - that sums up what we are all about for sure."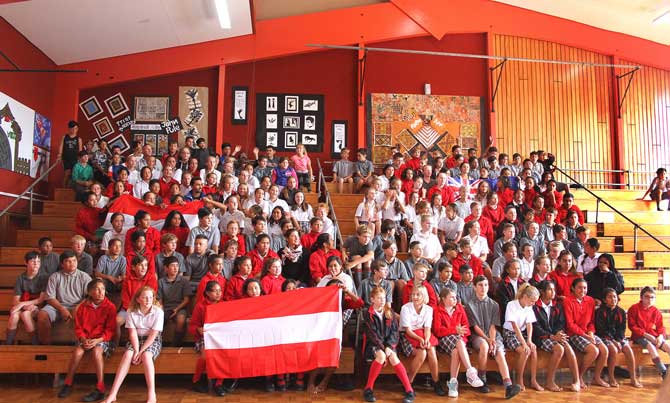 Photo courtesy of Tri NZ
With ex-pat Waitara boy Jamie Turner bringing his Wollongong Wizards training group to the region for the past month, the motivation wasn't hard to find to spend time with the youth of the region, as well as spending time with local Tri Club members and the community.
Schools to receive visits included Bell Block Primary Tyler Mislawchuk (Canada), Francis Douglas Memorial College for a Taranaki Superkidz TRYathlon (Jamie Turner and his Wollongong Wizards); Aaron Royle (Australia) was at Sacred Heart for the presentation of sports awards; Jamie Turner and Barbara Riveros (Chile) at Tikorangi School, Sarah-Anne Brault (Canada) and Geg Billington (USA) visited New Plymouth Girls High School, Ryan Bailie and Grace Musgrove (Australia) and Amelia Kretz (Canada) and World Junior Champion Jake Birtwhistle (Australia) visited Spotswood College; Joe Molloy (USA) and Summer Cook (USA) headed to Devon Intermediate; Erin Jones and Kaitlin Donner (USA) spent time with Coastal Taranaki Schools in a combined visit; Anna Maria Mazzetti (Italy) and coach Manuel Canuto visited Stratford Primary school with Toko, St Josephs and Rawhitiroa schools also attending the visit; And finally Tamsyn Moana-Veale, Lisa Perterer (Austria) and Tamás
Tóth (Hungary) headed out to Manukorihi Intermediate School for a great Q&A session and a rendition of the school song.
Aaron was a big hit with the girls at Sacred Heart and after the photo opportunity one of the girls cheekily informed Aaron that he had 'nice big calf muscles', inducing cringes from her school mates and leaving a rather embarrassed Australian triathlete!
Amongst the questions at Manukorihi from the children for Moana-Veale, Perterer and Tóth was if 'they had abs' and who their favourite authors were, such was the variety and level of interest from the children – and no, no one was prepared to show their well-toned abs to the kids, instead encouraging them to all come along to watch the racing and see all the muscles they liked on Sunday!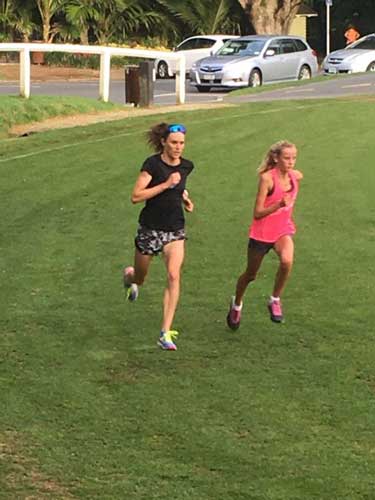 Photo courtesy of Tri NZ
Other interactions included a remarkable chance for Sacred Heart athletics champion Hannah O'Conner asking if she could 'train' with two times world champion Gwen Jorgensen, much to Hannah's surprise and delight, that very wish came true with a visit from Gwen at Pukekura Park the next day, and a once in a lifetime opportunity for Hannah, one she will surely never forget.
Hannah took time to write to Jamie and Gwen to express her delight.
"The run went really well this morning, it was an awesome opportunity and I learned heaps from Gwen which I will definitely take into my training and my racing. Thank you so much, I loved it. I will also remember to give back to the community as Gwen did today because I know how much it meant to me and how much I gained from it. If Gwen ever needs any company on her runs let me know!
"Good luck for the Road to Rio, I will be watching and supporting Wollongong wizards. Thanks heaps Hannah O'Connor."
Further information including course maps and schedule,
CLICK HERE