ADVENTURE RACING
Injuries At GODZone Force Teams Out Of The Adventure
By GODZone Adventure
Two teams have been forced to leave the GODZone adventure course on Sunday after sustaining injuries on Stage three of the 530km course through the greater Tasman region.
A medical evacuation was trigged just before 4pm when team Wanaka CPR contacted the GODZone Race Headquarters to report that team member Mike Plimmer has suffered a knee injury while trekking in the Red Hills. He was unable to walk and was picked up by helicopter. The rest of the team are continuing on as an unranked team.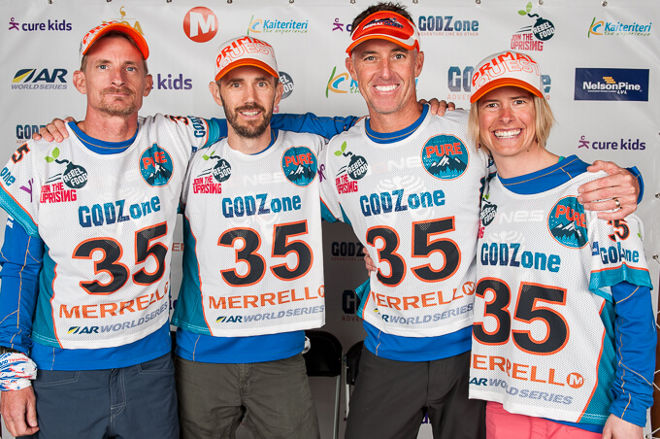 Roy Malone, Jason Quinn, Chris Barry, Liza Pye of Team Bones.
Meanwhile USA team Bones is out of contention after team captain Roy Malone text in using a YB Tracker to inform that team member Chris Barry has fallen sustaining lacerations and an injured ankle.
The team was located just below Porters Creek Hut on the Red Hills. They have continued walking down the Te Araroa trail towards the race transition area at Top House near St Arnaud.
C
overage:
Watch all the action unfold with live GPS tracking, video, photos & news at
http://www.godzoneadventure.com
Facebook:
http://www.facebook.com/godzoneadventure