TRIATHLON
Hewitt silver medal headlines Kiwi effort at Quality Hotel New Plymouth World Cup
By Tri NZ
The Quality Hotel Plymouth International ITU Triathlon World Cup proved a spectacular hit on Sunday, with thousands lining the course in fine conditions to cheer the world class fields home, delighting in the performance of the Kiwis with Andrea Hewitt winning silver and Ryan Sissons just missing the podium, finishing 4
th
in a desperate sprint finish to the line.
The World Cup race played out in largely clear and warm conditions after the huge rainfall of the day before and it was the race favourites in Gwen Jorgensen (USA) and Richard Murray (SAF) who took the honours, both winning on the back of superb all round performances.
But it was the sight of the silver fern challenging for honours that had the crowd at their noisiest and most passionate, in particular cheering Hewitt throughout the race as she made her first appearance since the Chicago Grand Final last September, and the first race since the passing of her fiancée Laurent Vidal late last year.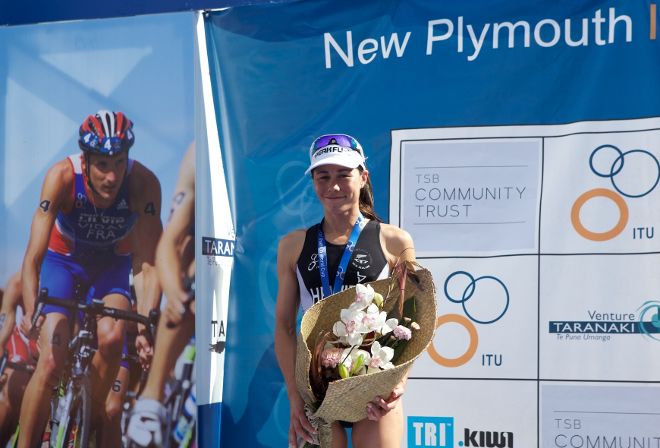 Andrea Hewitt on her return to racing finishing with the silver medal stands proudly on the podium, in front of the image of her late fiancée Laurent Vidal, featuring on the finish gantry in tribute to the Frenchman. Credit: Scott Taylor/ITU
Hewitt was comfortably home in second, taking time to acknowledge the image of Vidal that adorned the finish gantry to honour the man known as '49% Kiwi', with Kirsten Kasper (USA) claiming bronze in the women's race, while in the men's Andreas Schilling (DEN) win silver ahead of Rostyslav Pevtsov (AZE) who just nudged ahead of Sissons in the final few metres.
It was a quite remarkable day for Hewitt, who raced in front of family, friends and it seemed every supporter on the course cheering her name.
"I didn't know what to expect today, but my training has gone really well and I came here wanting a really good result. I was pleased Gwen was racing today, we had a really good battle, especially on the first lap on the run. I worked hard on the bike to stay away from the second group and avoid us all coming together, from there it was about putting it together on the run.
"It is always hard the first race of the year, the swim was an eye opener in the middle of the pack, I lost my cap but held on to it and there were some other little things, in my first transition I got caught up with my wetsuit and cost me a few seconds but racing improves all those things.
"I am really happy, especially with second place today - that was a great day out there."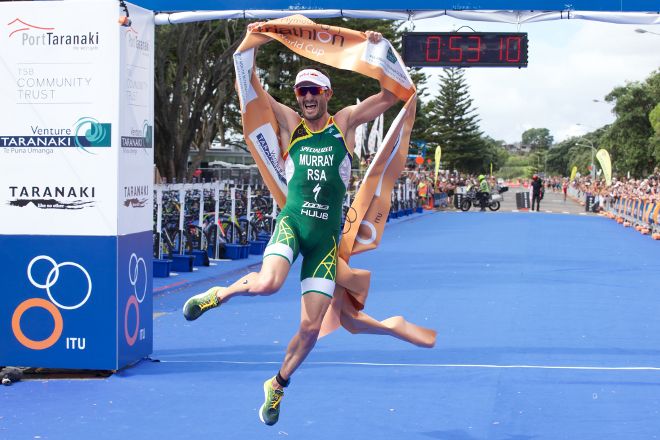 A jubilant Richard Murray takes the win. Credit: Scott Taylor/ITU
Sissons made it a good day for the New Zealanders and coach Chris Pilone (also coaching Hewitt), the Auckland athlete emptied the tank as he sprinted towards the line in search of a medal.
"I maybe went a little early, that is a long home straight and it cost me with ten metres to go, but that is the way it goes and I am still happy with the race. It was good to get my Rio selection done and decide to race here instead of Gold Coast. It was great to race here at home and then have some time at home to build up for the rest of the season leading towards Rio."
Sissons acknowledged his former coach and good friend Vidal as he crossed the line, tapping the life size image of the Frenchman on the finish gantry before collapsing over the line, totally spent.
"I was hoping to get there in third but am stoked to have a good race here, Laurent was always here at this race and the last time I raced here I beat him and I think he would have been stoked with my sprint finish, if you don't try you don't know, hopefully next time I will get that right."
Of the other Kiwis it was mission accomplished for Tony Dodds in 24
th
with a strong swim and bike and a steady run that ticked the box to start the season for the Wanaka athlete in what was his first race this year after some time out with a hip and calf injury in the off-season.
Junior athlete Dan Hoy (Auckland) was 44
th
on debut at World Cup level, Sam Osborne (Rotorua) 46
th
, Andrew Lloyd (Papamoa) 59
th
and Trent Thorpe (Auckland) who was also on debut gained vital experience in finishing 62
nd
.
In the women's race Nicole van der Kaay showed she is ready to learn and soak up every experience as she led off the bike in just her second ITU World Cup race following a 16
th
place finish in Mooloolaba last month, the young Taupo triathlete eventually coming home 22
nd
.
Rebecca Spence (Auckland) put together a strong all round race to come home in 15
th
place, Deb Lynch (Porirua) was 34
th
, Elise Salt (Auckland) 36
th
, and Rebecca Clarke (Auckland) returned after sustaining serious lacerations and cuts in a bike crash over a month ago to finish 37
th
.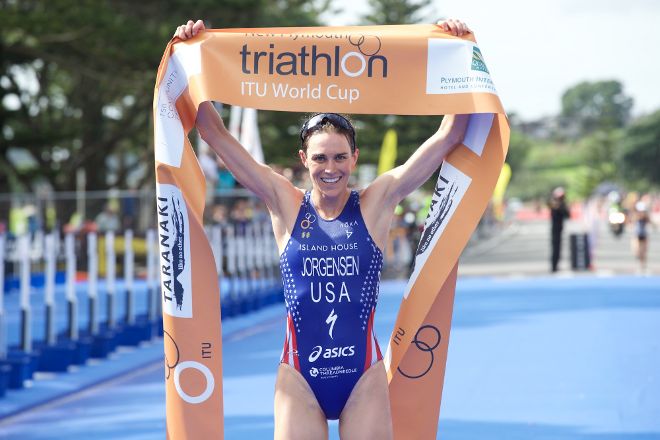 Another ITU win for Gwen Jorgensen. Credit: Scott Taylor/ITU
Quality Hotel Plymouth International ITU New Plymouth World Cup
Results

Elite Men
Gold Richard Murray, (SAF), 53:08
Silver Andreas Schilling, (DEN), 53:28
Bronze Rostyslav Pevtsov (AZE), 53:32
4 Ryan Sissons (NZL), 53:33
5 Marten Van Riel, (BEL), 53:34
Full results,
CLICK HERE
Elite Women
Gold Gwen Jorgensen, (USA), 58:51
Silver Andrea Hewitt, (NZL), 59:13
Bronze Kirsten Kasper (USA), 59:20
4 Mari Rabie (RSA), 59:28
5 Miriam Cassillas Garcia (ESP), 59:38
Full results,
CLICK HERE