ORIENTEERING
Auckland Orienteering Champs Challenges
By Michael Croxford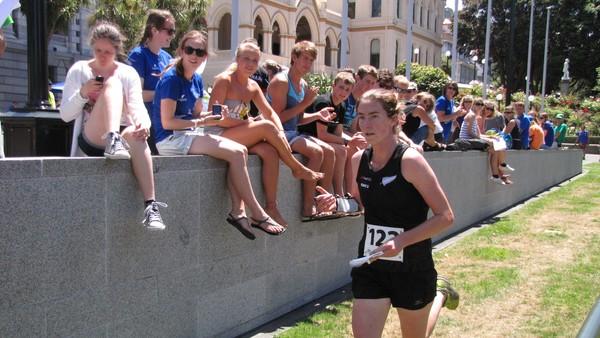 Georgia Whitla, World Cup 2013 race 2 qualification, Wellington — Nic Gorman
Georgia Whitla won the Auckland Champs middle distance last Saturday, but it would have been a hollow victory. The joy of orienteering comes from performance not results, and dropping 7 1/2 minutes to win an elite middle distance is not the performance to tickle a self-respecting elites fancy. She was hardly the only one plunging the depths of Woodhill forest though last weekend.
Auckland Orienteering Club put on three events over the two day weekend, with the Woodhill Middle followed by a Sprint at Farm Cove on the Saturday and a long distance at Woodhill on the Sunday.
One athlete that is always remarkable though is the irrepressible Chris Forne. Having barely run since his injury in the World Games in Augu he still managed to compete against the much younger elites including Junior World Champ Matt Ogden in his own terrain. Along with Nick Hann the three were a long way ahead of the other elites in their split times, brutal navigational efficiency and speed through the terrain. Tane Cambridge and Tim Robertson held on to their boot straps but the others were left eating their dust.
The stand out result in the womens grade was Laura Robertson win in the long distance. One early mistake, but otherwise very consistent, and well clear of Greta Knarston and Penny Kane.
In the junior elite men it was good to see Matt Goodall register a couple of wins in the forest, and Tommy Hayes take out the sprint. Devon Beckman was close every time and Callum Herries was leading both the sprint and long for significant periods before just not finishing it off. The junior elite women was dominated again by Alice Tilley, who has been proving hard to beat recently. Kayla Fairbairn was the next most consistent but only made second in the sprint with Sonia Hollands and Rebecca Gray having a good run each. Lauren Holmes wasn't far off the pace either, just looking for the next level of improvement to get her right up with the others. Good racing.