| | |
| --- | --- |
| BMX | Monday, 26 October 2009, 5:42 PM |

BMX In New Zealand - The Early Years
By Dave Kidd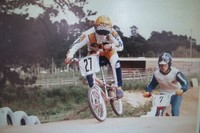 Rex Harris and Tony Mason from Paraparaumu had seen the sport in America, and decided to try and introduce this sport into New Zealand. They managed to use a local farmer's block of land, known as Whiteman's farm, to create a track. They built a wooden ramp, and used it as a start gate, and dug a track out of the hill. It was mostly downhill, and had one berm and a wooden table top jump.
In 1980, the club known as JDC (John Deans Cyclery) held a meeting they called NZ BMX nationals. This was an unofficial national meeting, as there was no NZBMX committee at this stage. 48 riders from all over the country turned up for this meeting.
Dunedin also had a track in the late 70s, known as the "Dunedin Peddle Cross club". Little information is available of this club; however, it is a popular dispute as to which club started first.
Bikes
As word spread across New Zealand about this new craze called BMX, kids started converting their old bikes into off road scramblers. The "Chopper" and the "Grifter" were popular bikes used until BMXs became available.
Rex Harris gained a licence to import the USA made bike "the Mongoose" and sold them locally in his shop.
New Zealand bike companies also cottoned-on to the sport, releasing a brand new range of BMX bikes like the Healing HMX 500, and the Pantha Stud. Both bikes are Kiwi icons to this day.
Prince Charles test rode an HMX 500 on his tour of New Zealand in the early 80s.
Bike shops around the country also started importing bikes from America.
Races
By 1981, parents had got together and formed an official BMX committee, now known as BMXNZ.
On the 7th of February 1981, Wainuiomata held the first New Zealand National Championship.
Over 320 riders from Auckland to Dunedin entered the event. Some of these riders are still competing today.
Brett Hickford from Highbury claimed the first open class title (now known as elite men.)
Later that year, a group of touring professionals from America visited and raced in Auckland at the Barry's Point Road track. These riders were well known to most kids, and became idols to many others. Since this first visit, American pros have come out to New Zealand several times to race and hold coaching clinics.
In 1982 there were over 70 tracks built, with even more clubs becoming affiliated.
Auckland hosted the second nationals. In 1983, BMXNZ decided it was time to hold the event in the South Island, with Nelson having the honours.
It was then decided the nationals would go to the South Island every third year.
In 1984, BMX had reached new heights .There were over 5000 registered riders in New Zealand.
The nationals that year were held in Castle Cliff, Wanganui. A record 1400 riders entered from 82 clubs! This is still the biggest ever meeting held in New Zealand and the most talked about to this day.
A group of riders travelled to Japan later that year, to attend the 3rd BMX World championships. Gaye McManus of Taupo became the first New Zealand BMXer to win a world championship title, competing in the girls 6/7 age group.
The following year, 1985 in Canada, the late Errol Nelson of Cambridge became the first male rider to win a world championship title. He is still the only rider over the age of 30 to win such a title.
Vintage bikes

It is debatable whether the first five years in BMX were the greatest of all time.
All the bikes from those early days are now collectors' items. People all over the world spend thousands of dollars restoring and rebuilding these bikes just to sit them in their spare room to be looked at. There is an entire network of people from all corners of the globe selling, swapping and trading old school bikes and parts every day, even right here in New Zealand! Hobby or obsession?
There are many different types of people that ride BMX – old school and new school. I can barely remember any of the names of kids I played rugby with for five years, but I can remember hundreds of kids that rode BMX back in the day! BMX changed my life.
To see more old school BMX bikes online, visit: www.bmx museum.com, or a local New Zealand site www.backinthedaybmx.wet paint.com.

Image - Glenn Rowell at the North Shore track 1984.
Credit: Dave Kidd