| | |
| --- | --- |
| OLYMPICS | Wednesday, 17 September 2008, 6:05 PM |

The Coach Potatoes Olympic Experience
By By Michael Jacques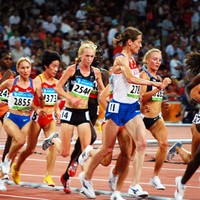 Sure it's hard on cyclists trying to get ready for both, and sure it's hard on sponsors deciding where best to invest a spare $10million or so. But for the ardent fan of all things endurance, the TV scheduling is pure hell. During the months of July and August I averaged well less than the supposedly ideal eight hours. If I'd had to choose, however, the Olympic would win hands down. The Tour de France happens every year and competitors have three weeks to mould their destiny. But at the Olympics it all rests on one day in four years, and most athletes only gets two, maybe three cracks during their career. No wonder the Italians call it sport's greatest opera.
THE OPENING ACT
The opening ceremony is the opening act of any Olympic Games. But I couldn't give a toss about the fireworks and dancing; with two weeks of late nights coming up I needed the sleep. For me Beijing's opening act was the cycling.
Hayden Roulston is one of those athletes who oozes a class and confidence that you just knew would be realised one day. Following a hit-and-miss career that has been interrupted by everything from drunken brawls to boils on his butt to life-threatening heart conditions, the 27 year old lived up to his potential with a two medal-winning rides.
When Roulston qualified second fastest in the individual pursuit behind reigning Olympic champion Bradley Wiggins (GB), I thought he looked like he had more in him. Apparently he thought so too, because in the final Roulston took the race by the horns, riding a big gear and leading Wiggins through the 1000m mark on world record pace. But Wiggins, always a fast closer, illustrated his class by coming back to even terms by halfway and then riding away to another gold.
In the team pursuit Roulston came into the squad after the first round, where the New Zealand team of Sam Bewley, Westley Gough, Marc Ryan and Jesse Sergent broke the four minute barrier for the first time to become second favourite to Great Britain. But in the second round ride against Spain they lost a chance to ride for gold when despite a national record 3:57.536, their performance was slowed by having to lap the Spanish team. In the end England won the gold medal ride easily from Denmark, while New Zealand rode faster than Denmark in the bronze medal race to beat Australia for the final medal.
Watching from the couch, it was easy to get caught up in these successes. There were no medals for Alison Shanks in the women's individual race, but a string of PB's and an eventual fourth place was a promise of things to come for the 25-year-old former netballer who only took up bike racing three years ago. But the Olympic Games are a high pressure environment and more late nights watching the rest of New Zealand's cycling team netted little joy.
Beijing's brutally hot and hilly road race course was never going to suit New Zealand number one's Julian Dean and Jo Kiesanowski. Dean was supported by Glen Chadwick and Tim Gudsell, but they couldn't make any impact on a race dominated by super-strong Spanish, Italian, Australian and American squads. Spain ran proceedings almost as they liked with 2007 and 2008 Tour de France champions Alberto Contador and Carlos Sastre manoeuvring less-fancied team member Samuel Sanchez into a small breakaway mid-way through the last lap. Sanchez then repaid their faith in him with a perfectly timed sprint to win ahead of Italian David Rebellin and Switzerland's Fabian Cancellara, who would win the time trial a few days later. Behind them Dean, Chadwick and Gudsell finished anonymously in 54th, 82nd and 91st.
Jo Kiesanowski fared a little better. The former world top 10 is a good all-rounder and strong uphill sprinter, so there were a few cycling pundits picking her for a top 10 if the race came down to a bunch gallop. Teammate Catherine Cheatley supported her well in the early stages before crashing on the rain-affected course. But Kiesanowski managed to stay in the game until the big climb on the last lap when she slipped off the bunch just as a small breakaway containing eventual winner Nicole Cooke (GB) headed off up the road. And while Cooke proved to be the happiest and most vocal gold medallist in Beijing, Kiesanowski finished a solid but frustrated 53 seconds adrift in 28th.
Back at the track there was more frustration for Catherine Cheatley and Greg Henderson in their specialist point races. Cheatley has been heralded as one of New Zealand's up and coming stars after a bronze in the 2007 world champs. But in a very fast race dominated by Dutch cycling legend Marianne Vos, the Kiwi couldn't get a break, literally or figuratively, and finished 17th.
I was much the same for Greg Henderson. Since winning a world title in 2004 and a Commonwealth title in 2006, the 32-year-old Otago rider has been a marked man on the world circuit. That's how it proved in Beijing too, with Henderson being allowed no leeway in his specialist points race, or in his much anticipated Madison pairing with Hayden Roulston, and he eventually finished 10th in both races.
Mountain bikers Rosara Joseph and Kashi Leuchs could be forgiven for feeling even more frustrated with their Olympic efforts. Joseph, the Commonwealth silver medallist, was robbed of any shot at a medal by three crashes on the tight, tough course. But after suffering through an injury-laden year Joseph was actually quite pleased to be close to the action. Ditto for Kashi Leuchs: the former world top 10 was pleased with 23rd place after illness badly interrupted his Beijing buildup.
Despite their mixed results, cycling has much to look forward to. Alison Shanks, Catherine Cheatley, Rosara Joseph and the entire pursuit squad are all world class and have a decade ahead of them. And while TVNZ and co. made much of Hayden Roulston's return from the jaws of death… the man himself was almost under whelmed… As if thinking to himself… "You ain't seen nothing yet!"
BITTER SWEET
That's the only fair summary of New Zealand's kayak results at Beijing. The small team of Ben Fouhy, Steve Ferguson, Mike Walker and Erin Taylor were all tipped as outside medal bets. But despite strong showings they came home with no precious metal.
On the face of things Athens silver medallist Ben Fouhy should have been most disappointed with his fourth place in the K1 1000m. Much had been made of Fouhy's lack of form and confidence following a year of illness and lack lustre performances. The former world champion and 2004 Olympic silver medallist was visibly upset when he only just qualified for the semi final, and almost relieved when he scrapped into the final, where he improved again to finish a close fourth behind English favourite Tim Brabents.
The excruciating viewing award, however, went to Steve Ferguson. In the K2 with Mike Walker they got better in every round to start the final as medal contenders, but then finished frustrated in sixth place only four seconds behind gold. Ferguson was looking even better in the K1 500m when he won his semi-final. But his final came less than 24 hours after his K2 effort with Walker, which probably robbed him of that medal. He was slow off the start and despite posting the second fastest time for the last half of the race, he fell apart in the final 100m to claim eighth place less than one second behind winner Ken Wallace (Aus).
Ironically, however, the most encouraging result for New Zealand's kayak squad came from the one paddler who didn't make a final. Twenty-year-old Erin Taylor was in Beijing to gain experience for the 2012 London Olympics, but in 2008 she has improved so much that she was a outside bet to make the K1 500m final. But in a strong semi-final she suffered a bad start and despite finishing faster than anyone in the race she missed the final by an excruciating 3/10th of a seconds.
HIGHS AND LOWS
Every good opera has soaring highs and booming lows. Certainly there is no other way to describe New Zealand's track and field performances in Beijing.
Shot put is anything but an endurance sport, but the stunning footage of Valarie Vili's gold medal performance was the visual highlight of my Olympic TV experience. Vili dominated right from the first throw, breaking her own national record with 20.56m. But her mental domination was even more impressive; the sight of the 6' 4" Vili holding her arms aloft, and then walking among her rivals almost daring them to match her was sporting drama at it's best.
There was no such drama for 5000m man Adrian Blincoe. A few weeks before Beijing the Aucklander ran a world-class 13min 11secs to break Dick Quax's 33-year-old national record, which back in 1975 was also the world record. But in Beijing he failed to progress beyond his heat, finishing seventh after being unable to match an amazing turn of speed by the African runners in the final 1000m.
The women's marathons were at the same time solid and unspectacular for New Zealand. Nina Rillstone and Liza Hunter-Galvan, were in the front bunch through halfway, and would eventually post times close to their best. But neither could contend when Romanian Contantina Tomescu blew the race wide open shortly after halfway to eventually win in 2hrs 26min 44secs. Rillstone, who was an outside bet for top 10, ran conservatively to work her way up to 16th in 2hrs 31min 16secs. Liza Hunter-Galvin, on the other hand, had something to prove. She was only selected after taking Athletics New Zealand to the court of arbitration to contest her initial non-selection despite having met qualifying standards. She stayed within the top 20 well past halfway before tiring late in the race to finish 35th. But such was the depth of the woman's marathon that she was only three minutes behind Rillstone's 16th place.
ATTITUDE AND EXPECTATION
Kimberley Smith must have watched the women's marathon with interest. It's in that event we'll probably see the talented 26 year old in the next Olympics. The American-based Aucklander came to Beijing as the second fastest female 10,000m runner in the world and was tipped as a medal prospect. She raced like a medal prospect too, but in an incredibly fast race she finished frustrated in ninth place.
A year ago Smith would have been over the moon with her world class time of 30min 51secs, but having this year run a national record 30:36 as well as national 5000m record of 14:49, she was hoping to contend for a medal. But she had no answer to Ethiopian three-time world champion, Turinesh Dibaba, who clocked the second fastest time in history (29min 54secs) to win two seconds ahead of Turkey's Elvan Abeylegesse. Bronze went to American Sharlene Flanagan, who Smith has beaten previously and who she trailed by just a few seconds when running so fast earlier in the year.
From the couch, however, it was refreshing to see a Kiwi runner so disappointed with what was a world-class run. Smith raced for a medal and was disappointed not to get it. That attitude will serve her well next time around in London where many people think she'll find her true niche in the marathon.
REDEMPTION
Every great opera has a redeeming character. In Beijing it was Nick Willis' bronze medal 1500m run heralding the return of New Zealand's middle distance tradition. Willis, the reigning Commonwealth champion, has been carrying that tag since 2001, when he clocked a 4:01 mile at age 17. But those who follow the track and field scene closely knew that something special was brewing in 2008.
I first got a sniff of it watching internet footage of the world indoor 1500m final, where Willis was disqualified for rough-house tactics in the last lap. The disqualification, which robbed him of a medal, was probably justified. But the fact that Willis was willing to force his way into a winning position was a breakthrough moment for a runner who had often been dubbed a tad timid on the world stage.
This turn around was also noted a few months later when he ran a string of top performances over 800m, 1500m and the mile. The mile race netted a new PB of 3:50.66, but it was the way he ran those races that made even his competition sit up. The 1500m world champion, Bernard Lagat, watched that mile race and commented on how surprising it was to see Willis trying to dominate from the front this year, saying, "This guy is going to be a factor at the Olympics."
Lagat was right. While the TV coverage constantly pegged Willis as a very outside medal hope, educated insiders became more and more impressed. He produced a fast and very poised finish to qualify for the semi-final. But it was the semi-final that really turned me into a believer. While Brendon Telfer and co. called it a close thing, and yes his penchant for getting boxed on the inside was nerve-racking, I saw something that Willis had never shown before. An ability to cover the big boys.
His ability to get out of a disastrous position was all class. The last 800m of that 1500m semi-final was run in 1min 48secs, and while running at this pace Willis managed to fight, quite literally, his way out of the inside lane and then catch the leaders before sprinting through in the final 50m to claim a spot in the final. While Telfer rabbitted on about close shaves I was simultaneously throwing beer cans at the TV while dancing a jig. If you knew anything about this game, you now knew Willis was a true contender and the fact that no less a name than John Walker placed $20 on Willis at the TAB confirmed it.
And so it proved in the final. In a very nervous and rough race Willis tracked the inside lane, staying out of trouble in seventh or eighth place as Kenyan Asbel Kiprop took them through laps of 56 and 60 seconds. Commonwealth 5000m champion Augustine Choge settled the field with a 57-second third lap, but with 400m to run the elbows started flying as all and sundry fought for a spot close to the pre-race favourite Rashid Ramzi (Bahrain).
In this mêlée Willis found himself bumped back to 11th, and when Ramzi made his move with 300m to go Telfer was straight on the microphone telling us the New Zealander was in trouble. Yes he was boxed in, but just as in the semi-final Willis was quick to assess the situation and when Englishman Andrew Baddeley moved out to chase you saw a black singlet shoot through a gap and all of a sudden Willis was clear of the bunch and chasing the front runners.
At this point a less experienced athlete might have burned all his candles trying to catch them straight away. But Willis knew that at this pace you only get one move. Rather than sprinting madly he gradually built up speed so that when they swung off the final bend he was in full cry chasing bronze.
I was in full cry too, screaming along with a reported one million viewers as he swept into third place with 50m to go, and then going hoarse as he held off fast finishing Frenchman Mehdi Baala to claim that place on the Olympic podium. Watching a black singlet romp down the home straight and throw his arms up and head back in absolute rapture was almost too much for a sentimental old fool who was brought up on tales of Snell and Halberg and inspired by the deeds of Walker, Dixon and Quax.
Nick Willis wasn't even born in 1972, when Rod Dixon took a surprise Bronze in Munich, or in 1976 when John Walker triumphed in Montreal. In 1987, when Walker clocked his 100th sub-four minute mile, Willis was a four year old in his first year of kids athletics on the Hutt Recreation Ground. I first became aware of him 11 years ago in Wellington while watching his older brother Steve narrowly lose an 800m race in the Smokefree Track Series that was organised by two other Olympic medallists, John Davies and Dick Quax. I was standing next to Wellington Scottish club coach, Don Dalgleish, talking about how well Steve was running and Dalgleish commented, "Yeah, but his 14 year old brother is going to be even better."
Steve and Nick later became the first Kiwi brothers to break four minutes for the mile, and in the eight months before Beijing Steve was Nick's right-hand-man, watching over every training session and working with Nick's American coach Ron Warhurst to turn their boy into a contender. Apparently it worked, but since watching that 1500m coverage more times than my wife cares to count, I've realised that Willis ran his last 300m in almost exactly the same time as the winner, Rhashid Ramzi. And I can't help wondering… What if he'd been closer to the action before the hammer went down? Sport, of course, is full of "what-if", and at age 25 he probably has two more shots at turning his Olympic what-if into reality… For Nick Willis and New Zealand, Beijing was far from the closing act.