| | |
| --- | --- |
| CYCLING | Thursday, 7 June 2012, 10:18 AM |

1000TT - Turin to Tiger Bay
By Abby Fleming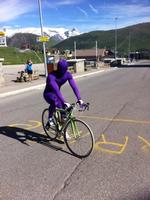 Yesterday they cycled Alp d'Laurente and Alp d'Huez from the Tour de France with Rhys Jenkins cycling the full 14km of the Alp d'huez in a purple morph suit.
'The hardest part was the sun was blazing and I was just overheating the whole way up. But we all did it and got our certificates.'
The day before, they took on the mammoth task of cycling the Col d'Angell and Col d'Izaord in one day. These two mountains which again feature in the Tour de France, included a combined climb of 13,000ft and had gradients of 14% +. The guys managed the challenge and raised some much needed extra funds towards the two charities.
Today's route takes them through Grenoble and out of the Alps heading back towards Calais for the ferry on Monday morning. Front here the men will cycle through London's East End and via the Olympic sites.
Scott Jenkins, challenge coordinator said 'cycling the Col d'Angell was one of the hardest things I have ever done. The burn you feel on your hamstrings is immense at a 14% gradient but we had a 65 year old Belgium man who lead the pace on the way up for us'.
Sammy Alderman added 'I'd have rather run up the Col d'Angell than cycle. Never again'.
If you want to sponsor the four men on their epic cycle, please go to
www.justgiving.com/1000tt
or text ITWA50 and amount to 70070. To follow their daily blogs, visit
www.1000tt.co.uk
and on twitter and Facebook at 1000TT
'It's gruelling since we are all new to road biking having only taken it up for the challenge but it will be worth it if we raise more money for the charities.' added Dom Hedges.