| | |
| --- | --- |
| CYCLING | Thursday, 15 March 2012, 1:58 PM |

Tour of Matabungkay
By Daniel Carruthers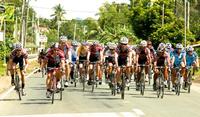 Imagine kicking back and relaxing on a tropical beach resort after you have already completed 120kms off furious racing in the tropical heat, dodging Jeepnies and throngs of monkeys lunging for your bananas as you flash by. You can enjoy a freshly made ice-cold mango shake while admiring the brilliantly clear tropical sunsets you don't often get to see, even in New Zealand.
Races for amateur riders in the Asia region continue to grow and the Philippines is one of the many countries with flourishing bike scenes. The Philippines has an Executive Racing League that organizes multi-stage races throughout the year, the most recent being the Tour of Matabungkay. Daniel Carruthers, who is based in Asia, attended this event to race for Mossimo, a Filipino based cycling team. He shares with us his experience.
Cycling races that include resorts as part of the package are on the rise in Asia; races like the Tour of Matabungkay and the Tour of Bintan in Indonesia both offer resort accommodations with picturesque tropical surroundings for riders to unwind after a day of hard racing. This concept is particularly attractive if you wish to bring your family on a tropical vacation and do some stage racing at the same time. Fellow Hong Kong based Kiwi rider, Mark Cook (riding for the Franzia Wines Team) also attended this tour and did very well to place third overall on General Classification. I placed 11th overall and my best stage finish was eighth. Our Mossimo Team finished second overall.
About the Tour
The Tour of Matabungkay is a three day action packed four stage race that is held in the Batangas region, two hours south of the frenzied city of Manila. This popular Tour is now in its seventh year and looks to continue its tradition being based around the Matabungkay Beach Resort. The General Manager of the resort, Rico M. Violeta, fully supports the event, saying, "Our beautiful resort has provided a firm foundation for the race and offered a lifeline when its future was threatened. We decided to use the event to help showcase our region for tourism. We have great support from the local government and the police. The roads are fantastic for cycling on too, which makes it an ideal location to hold a cycling race".
According to organizer Quin Baterna, "The former organizer wanted to transfer the race to another area, but the Tour of Matabungkay (TOM), I feel, belongs in Matabungkay. It is already a part of tradition in the cycling culture here so we decided to spearhead the organizing of the event for its seventh edition. We wanted to keep the race alive and our vision is that the TOM will become one of the cycling destinations in Asia".
The Racing
The 2011 Tour of Matabungkay attracted over 300 cyclists, mostly from the Philippines, including a smattering of expats from Singapore, Japan, China, Taiwan, and Hong Kong. 80 riders duked it out in the highly competitive elite event that was won by Scotsman Colin Robertson who put his formidable time trialing skills to good use for the two TT stages.
The four-stage race definitely does notfavourthe pure climber, nor does it favour the sprinter; it is more suited to a rider with good all-round abilities including above-average time trial skills. Compared with the Tour de Bintan in Indonesia, it is far more challenging; especially when you have to race two hard back-to-back stages on day one: riders battle it over a 90km route that includes a 20km mountain climb at a 5% average gradient. Then later in the day, riders have to pick themselves up again to work cohesively together as team units for the 30km team time trial. It is held on an extremely difficult course with many rolling hills and stiff winds that will require intense focus. The second day was the 120km road race that took the peloton up yet another long, slightly steeper climb (17km).
Ex-Fuji Cyclingtime rider Lee Rodgers (UK) won both road race stages but Colin Robertson donned the yellow jersey after his Franzia team's brilliant time trialing to lead our Mossimo team by only 28 seconds. The fact was that all of us on the Mossimo Cycling Team only had road bikes versus Franzia's full time trial rigs.
Carruthers Files www.danielcarruthers.com
Some of you may have already seen or read my blog from time to time; it is a blog that covers my cycling exploits in the Asia region with the odd post on cycling tips. A stage-by-stage blow of the Philippine race can be found on my blog.
For me, as a sprinter, the best chance for success at the Matabungkay Tour was to create a breakaway and get over the climbs safely to be in contention at the finish. However, unfortunately, my efforts in each of the road stages did not reap the rewards I was hoping for. I was also riding for the Mossimo Cycling Team, so was riding with this in mind; I needed to be a team-player for a change as this season I have been racing mostly un-attached.
Stage 1
I had the distinction of making the first aggressive attack in the opening few kilometres of the 20km climb and had the peloton strung out in single file as they sought to reel me back in.
During my short time off the front, I was joined by two Filipino riders but all they did was sit on my wheel and refused to pull through. I kept riding tempo and when the pack caught up with me, Lee Rodgers (my team-mate) surged straight to the front of the attack. It was a brilliant move and succeeded in giving three riders an instant gap including Colin Robertson and Michele Velasco. There was a flurry of other riders attempting to bridge across while I was sitting calmly in the folds of the peloton. I mistakenly thought there were at least three of my Mossimo teammates up the road so initially did not try to bridge across. Once I realized that there was only Lee Rodgers up there, I tried to bridge across to the eight-man chase group. But I had left it too long and the gap was too big to whip across.
Stage 2
This stage was probably the highlight for me. We smoked the 30km undulating winding course from the gun; initially perhaps too fast, but we held quite well. To get an official time, three riders needed to finish together out of the seven that started. But we did not expect to be reduced to just three riders within the first two kms!
I was second wheel behind Lee Rodgers and when the gun sounded, Rodgers bolted out of the gate and galloped to 55km/h in a few seconds. I was holding onto his wheel just fine and most of the team did a couple of rotations, but were unable to sustain the high pace and popped off the back.
Basically, it was just myself and Rodgers doing the bulk of the work with one of our Filipino teammates clinging on for dear life. I was swapping out even turns up till the last 5kms. Basically, Rodgers soldiered it out for those remaining kilometres and I was able to finish it reasonably quick. We were all quite chuffed that we were only a scant 28 seconds behind the Franzia Team that had full TT rigs.
Stage 3
This time the plan for me was to surf the peloton and wait for opportunities. I would not initiate the first few attacks, but would choose the right moment to launch my own vicious counterattack. As usual, in most races, many riders sought to break free but none escaped the clutches of the peloton. One Filipino rider managed to break free and established a decent gap before the peloton started to react.
Strong riders were moving to the front to close down the lone-breakway rider and within 200m of catching him, the front riders sat up and this caused a temporary lull in the pace. It was at this point I sensed my opportunity and sprung forward, emitting a tiger-like roar for comical effect as I sailed by, and instantly powered away to open a big gap. The lone rider re-accelerated and caught my draft, we were away. However, I did not get much help from him and had to do most of the pulling.
By the time I got to the base of the 17km climb, my lead was just over two minutes. I thought it might be enough to make it over and join the chase group as they came through. However, I did not account for the fireworks between Lee Rodgers and Colin Roberston. Apparently they smashed the first three kilometres of the climb like locomotives. Roberston reportedly was averaging close to 500 watts just to hold Rodgers' wheel. They averaged over 32km/h on the whole climb versus my 25km/h; a big difference and I was caught about midway up. I joined the group as they came through, but was spat out the back once Rodgers attacked again.
Stage 4
I can time trial reasonably well; however, most of the time trials I have done have been short ones. Plus I have never been set up into a time trial position, nor do I own a time trial rig. However, that's about to change with my new Orbea Ora build with Deda Kronos one-piece carbon bars!
I had the worse start ever, starting 30 seconds late! The organizers moved up the start times by a few minutes and I was unaware of this. I was equipped with a HED disc wheel and an aero helmet with clip on bars on my Velocite Magnus road bike. My goal was to do a sub-60 minute time trial given it was on a very tough course with two hill climbs and lots of undulating terrain.
I started ok, averaging 44km/h, but somehow my 30 second man caught me within the first couple of kilometres, flying past me at 55km/h behind a motorbike! I kept my steady pace and eventually passed my 30-second man, but he stayed glued to my wheel. I probably wasted too much energy yelling at him and other riders that also attempted to draft. It was strange that there was not much policing of this going on.
Since it was the final stage and I was feeling the effects of the previous three stages in the legs, I was not feeling too spritely and the heart rate stayed at least 15 beats below normal. I was struggling to hold a good pace out there, often dipping below 40km/h. By the time I hit the first major climb, I had averaged 41km/h and the hill climb reduced it to 39km/h! I had no energy to dance up it, but just to maintain a steady pace. I finished with a time of 1hr 03 mins, ninth place and this gave me 11th place overall in the Tour. Regardless of the result, I still had a lot of fun and I gave my best shot at all the stages.
--------------------------
If you are ever visiting the Asia region on business or holiday, be sure to contact me on djcarruthers@gmail.comfor a list of upcoming events that you could potentially take part in and keep your fitness up while on vacation or business. It's also a great way to expand your networks – both business and socially.
For more information on the Matabungkay Tour, you can email Tats at tour_of_matabungkay@yahoo.com