| | |
| --- | --- |
| RUNNING | Tuesday, 22 June 2010, 11:32 AM |

Cape Reinga to Bluff
By Andrew Hedgeman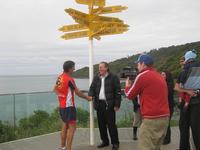 I had spent eight months training and I couldn't go any further, this was the end of my training. Am I really ready? I thought. I had no idea.
The day before the run, Neil Hope, who was my entire support crew, and I drove up to Cape Reinga, the most Northern point of New Zealand. I went for a final jog along the beach just as the sun was setting. I had no idea this was the last time in what would feel like an eternity that I would feel this good.
Waking up in our tent that we had pitched the night before I knew there was no turning back, I had to take this thing head on. I wasn't nervous at all, I was worried. I was worried that I may let my friends and family down who had supported me right from the beginning, especially my mum. There was no way I could give up.
We started at 6.30am at the landmark signposts by the lighthouse, the whole day went by smoothly; I had an old knee injury that I was concerned about so I had that bandaged up just as a precaution. On my final training run a sharp shooting pain struck my knee where I had to get someone to pick me up, I always thought that this knee could be the downfall for this entire run.
The next three days really threw me off balance; the hills that I encountered were like mountains. I never ran up the hills, always walked them to conserve energy, I was doing a lot of walking in those days, then came day five which became one of the hardest days of the twenty-eight. The hills (or mountains) were endless, the heat was crazy, I had a fall along some gravel. I was just getting into Auckland; our destination was Browns Bay, when I felt a pain above my foot in the front of my leg. Every kilometre the pain got more and more intense, by the last few kms of the day I was walking. Neil and I knew what it was, shin splints.
Sitting in the shower, looking at my leg I wondered if this was all over. Only five days in and I have to give up. I thought of everyone who was supporting me, how could I let them down. Then it struck me, Lisa Tamati had run the country the year before, she had shin splints, she got through it, it is possible.
Every morning for the next four days was hard, it would take me three or four hours before I could get a good jog going. By day ten the pain had subsided, I was able to get into it straight away. I had overcome my shin splints, I will do this. Near the end of the day coming through Taupo I started getting a strange tingling feeling in the inner part of my thigh. With only 2kms to go the pain was extremely intense. Finally getting to the day's end the whole muscle was swollen, I had torn it.
Just like the shin splints the start of every day was hard, it would take a couple of hours to get going, sometimes my entire leg would collapse beneath me every time I would try to run. If I have to walk this whole thing I will, I thought to myself.
Running between 70 and 90kms each day was absolutely brutal, especially with injuries, sometimes I was getting less than four hours sleep in a night, and sometimes I spent up to fifteen hours on the road. I often wondered why I was doing this.
Finally reaching half way and crossing over the Islands on the Interislander ferry was a huge relief. I had done the hardest part of this four week journey, the pain had almost gone away from my injuries, and I was feeling a lot better. I could now enjoy the rest of this run, or so I thought.
The South Island terrain was a lot nicer to me than the North Island, a lot flatter, less stress on my body, I was feeling really good. The good thing about the North Island was that the weather was great, not windy, hardly any rain. I wish I could say that for the South Island.
The last 30kms heading into Christchurch the rain came down and hard, the wind picked right up, a very cold southerly blowing right into my face. It was a struggle to fight against at some points but I pushed through. The next day heading into Ashburton was worse, the rain was pelting into me like bullets, I often had to duck and cover inside Neil's car until it eased down a little bit, also changing into dry clothes.
The weather for the rest of the South Island wasn't as bad but it wasn't perfect either. I had to push through some more bad weather through Dunedin, also coming across some huge hills that seemed to last forever. Luckily that was the worse of the South Island.
I made sure that in the last four days I didn't have to run as far, it was between 30 - 70kms, I wanted to enjoy the last bit. It was a relief knowing the end was so close. I was feeling really great at this point. My body had adapted waking up every morning and running for hours on end.
On the final day I started in Invercargill, this was only a 30km run. I had to finish at 10am as the Invercargill mayor Tim Shadbolt and the news crew was meeting us at the end at that time. The first 20kms I ran slow and had long breaks talking to Neil about what we were about to achieve. When I got to the last 10kms that's where I picked up my pace right to the finish at Sterling Point in Bluff. Seeing the finish a flood of emotions streamed through me. Twenty Eight days with one rest day averaging 80kms a day, how did I do this? Finally reaching out and grabbing that signpost I knew how I did it. I had my family's and friends' support, I had my best mate Neil with me the whole time, people I didn't know telling me to never give up, my mum telling me how proud she is of me. They were the reason I was able to finish.
I now look at life in a whole new light, any challenges that come my way I know I will be able to overcome. There were people who told me I couldn't do this; someone said that this was unrealistic. I used their doubt as my motivation, I wanted to prove that they are wrong and I did. I wanted to prove to myself that dreams do come true and I have.